BIG TYPHOON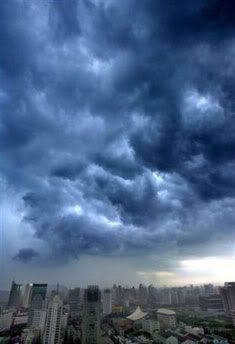 by Elaine Meinel Supkis
Been a while, except for the pigs in space news. The East has been busy, though, do not doubt this.
Just the other day, I breezed by the usual economic forums I sometimes haunt and as usual, everyone was speculating when the Chinese will raise the value of the yen---ooops, I mean the yuan. As usual, the Chinese have the last laugh:
From Xinhuanews:
China's central bank said Tuesday it will continue to keep the exchange rate of Renminbi, China's currency, basically stable at a reasonable and balanced level in the second half of this year.

In a press release issued after a meeting by heads of the bank and its provincial branches, the bank said it is one of its major tasks in the six months to deepen the reform of its foreign exchange administrative system, and push forward the reform of RMB exchange rate mechanism and keep the RMB exchange rate basically stable at a reasonable and balanced level.

China must uphold the principles of independent initiative, controllability and gradual progress in pursuing RMB exchange rate.
This must be their main source of amusement these days. Like when I drag a string across the floor and the cats go nuts. Watching news about that is a waste of time. Watch Hu and Wen and who they meet with and when they meet and what treaties they sign for they are busy little bees.
Today's treaty:
From Xinhuanews:
President Hu Jintao (R) gestures while welcoming visiting Vietnamese President Tran Duc Luong during a ceremony in Beijing yesterday outside the Great Hall of the People. [Xinhua]
The leaders vowed to speed up the survey and setting of the land boundary, and reaffirmed their desire to see results from joint exploration of disputed areas in the South China Sea.

Hu and Luong also agreed to maintain normal fisheries co-operation in the Beibu Bay in an effort to build the China-Viet Nam border into one of peace, friendship and long-lasting stability.

Hu said the land border issue between China and Viet Nam and demarcation in the Beibu Bay, were issues left over from history that were gradually being resolved, adding that he looks forward to the completion of the matter and a mere stone monument on the land border.

After an hour-and-a-half meeting, the leaders of the two countries witnessed the signing of three agreements, one of which pledges China's support for Viet Nam's accession to the World Trade Organization.

Hu suggested furthering the Sino-Vietnamese comprehensive co-operative relationship by enhancing high-ranking exchanges, expanding trade and economic co-operation and strengthening communication between the countries' people, especially the youth.
I have kept track. They have secured all borders, rear and front. They are just about ready to confront Japan. Japan piggy backed on the USA when Bush handed over our nuclear secrets to India today so he could get a treaty. Now Pakistan, home to bin Laden, is pissed. We keep fetching up against many rocks, knapping our shins.
From the Washington Post:
President Bush agreed yesterday to share civilian nuclear technology with India, reversing decades of U.S. policies designed to discourage countries from developing nuclear weapons.

The agreement between Bush and Indian Prime Minister Manmohan Singh, which must win the approval of Congress, would create a major exception to the U.S. prohibition of nuclear assistance to any country that doesn't accept international monitoring of all of its nuclear facilities. India has not signed the nuclear Non-Proliferation Treaty, which requires such oversight, and conducted its first nuclear detonation in 1974.

Participants in the discussions said there had been debate within the administration about whether the deal with India -- which built its atomic arsenal in secret -- would undercut U.S. efforts to confront Iran and North Korea over their nuclear programs. There were also concerns about how the agreement would be accepted in Pakistan, India's regional rival and an ally in the U.S. campaign against al Qaeda.
This is pathetic. We have no borders with either country. We have secured Canada's and Mexico's borders long ago which freed us up for running around the planet playing imperial Rome but we are now having increasing problems with the Mexican border. We seem to be plugging holes in dams all over the place.
Japan, as always, kicks China in the shins. They may think this is funny but it isn't.
The Chinese leadership don't mind, these Japanese moves make them highly unpopular.
From Xinhuanews:
The Tokyo High Court on Tuesday dismissed an appeal by a group of 180 Chinese nationals seeking compensation from the Japanese government for injuries and deaths stemming from a germ warfare campaign during Japan's aggression war on China, upholding a lower court ruling.

In handing down the ruling, Presiding Judge Yukio Ota acknowledged the fact that the Imperial Japanese Army waged germ warfare, carried out by Unit 731 in China before and during the war, resulting in the deaths of many Chinese people from pest and cholera.

Referring to an international treaty that banned germ warfare at that time, Ota said, "Japan is held responsible for using germ weapons in violation of a treaty."

The judge, however, rejected the compensation demand saying that there were "no rules that allow individuals to directly demand damages from perpetrating countries."
Um, word of the wise: the government of Japan should step in and do the right thing. But then, the USA should, too, vis a vis Vietnam and Agent Orange.
But we lost that war...all over again today, didn't we?
To return to homepage click here