IOKIYAR--IMPERSONATING THE SS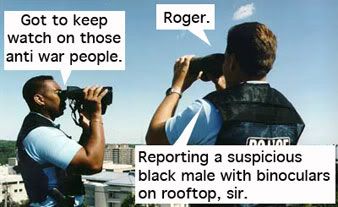 Secret Service tracks dangerous antiwar peaceniks.
By Elaine Meinel Supkis
Some time ago, as per usual, when Bush appears in public, being a coward, he had his audience scrubbed of all possible opponents or even people who might not clap loudly enough for Tinkerbell.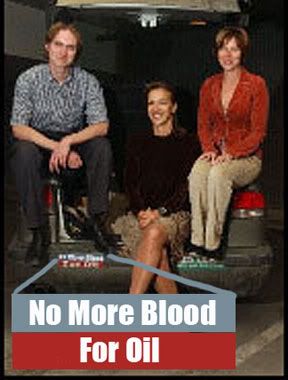 The three scary people that Bush is hiding from.
Ooooh. (OK, the real question is, are they single? Heh.)
From the Rocky Mountain News:
Federal prosecutors have declined to press charges of impersonating a Secret Service agent against a White House volunteer who ousted three people from a speech by President Bush in Denver on March 21.

The announcement was made Friday in a letter to Colorado Sen. Ken Salazar and Reps. Mark Udall and Diana DeGette, all Democrats, who had asked for a Secret Service investigation into the incident.
Evidently, even though this clown breaking Federal laws dressed like a SS agent and acted like an SS agent, didn't quack like an SS agent. So long as he didn't say Valerie Plame's name, it's OK to fool people into believing one is a fake SS agent. Note how our rulers parse everything! The intent of the law, making it very dangerous for people to impersonate any officers, is suddenly heaved off the cliff if the criminal is working for our rulers. Then, the law is fine tuned to death.
The three, Alex Young, 26; Karen Bauer, 38; and Leslie Weise, 39, said they were told by the Secret Service that the man admitted ejecting them because they arrived at the event in a car with a "No more blood for oil" bumper sticker.

U.S. Attorney William Leone said the investigation was "thorough and complete."

"I am certain that the Secret Service would demand, and our office would aggressively prosecute, any person who was found to be impersonating a Secret Service agent if the facts warranted such a prosecution," Leone said in a statement. "This is not such a case."

He added, "Criminal law is not an appropriate tool to resolve this dispute. The normal give and take of the political system is the appropriate venue for a resolution."
What? We are supposed to have a revolution or coup and overthrow the criminals? Is this what he is suggesting? Or maybe take back our government? So it is OK to be a criminal and to fix this, all one has to do is take over the entire government and then arrest them?
OK. Aux la Barricades!
This was a public forum and we enlarged the offending bumper sticker that tagged our three enterprising citizens. Offensive as hell! Talking about oil and all that. Don't look at that listing oil rig!
Ah, but there is much more about this.
From the Rocky Mountain News:
Here's the press release the Young Republicans put out last Wednesday, April 27.
-----Original Message-----
From: Dan Kopelman [mailto:dkopelman@technologist.com]On Behalf Of press@dmyr.org
Sent: Wednesday, April 27, 2005 4:18 PM
To: dkopelman@technologist.com
Subject: FOR IMMEDIATE Release - Denver Metro Young Republicans


FOR IMMEDIATE RELEASE
"Denver Three" Member Harasses Young Republican Chair

Karen Bauer, one of three people removed from President Bush's Social Security meeting posed as a Rocky Mountain News journalist while grilling Jay Bob Klinkerman at a regular meeting of the Denver Metro Young Republicans. Klinkerman is chair of the Colorado Young Republicans, a group unaffiliated with the Denver Metro Young Republicans.

Ann Imse, staff writer for the Rocky Mountain News and photographer Evan Semon, escorted Bauer into the meeting.

"They were waiting in the restaurant area until our meeting began. They then joined our meeting in progress in a private room. They declined signing our guest form or to introduce themselves which is standard at our meetings," said Jude Sandvall, President of the Denver Metro Young Republicans.

It was only discovered after the harsh questioning of Klinkerman that Bauer was not a reporter and that she had shown up with Imse to intentionally confront the Young Republican chair.

"The sad thing is that we have enjoyed a great relationship with the press media in the past. Ann Imse's behavior is beyond our worst expectations in her attempt at deception. I'm truly disappointed with the Rocky Mountain News," concluded Sandvall.

The Denver Metro Young Republicans have been meeting at On the Border Cantina for more than 7 years on the 4th Tuesday every month at 6:30pm. They are independent from any State or National Young Republican organization and have been in continuous existence for more than 40 years in the Denver Metropolitan region.

Please direct all inquiries to press@dmyr.org
Seems our dear little yellow elephants met one of the reporters for the newspaper who was along with one of the victims of the fake SS officer and she was there to ID the man the reporter suspected was the law breaker in question.
When the Young Chickenhawks began to argue with the reporter, they argued with her, too. Then, being weasels, they tried to pretend she was doing what they do all the time: fake it. Pretend to be what she isn't.
This has fallen flat because a real reporter was there and witnessed the whole thing. It is an interesting read.
Here is the letter from Senator Salazar of Colorado asking for an investigation:
U.S. Senator Ken Salazar
Member of the Agriculture, Energy and Veterans Affairs Committees
2300 15th Street, Suite 450 Denver, CO 80202 | 702 Hart Senate Building, Washington, D.C. 20510

For Immediate Release
April 6, 2005
CONTACT: Cody Wertz – Press Secretary
202-228-3630
Jen Clanahan – Deputy Press Secretary
303-455-7600

April 5, 2005

Mr. Dennis S. Schindel
Office of Inspector General
U.S. Department of the Treasury
1500 Pennsylvania Avenue, NW
Washington, DC 20220

Honorable Mitch Morrissey
District Attorney
2nd Judicial District
201 West Colfax Avenue
Denver, CO 80202

Dear Mr. Schindel and District Attorney Morrissey:

I am writing to request that you investigate a matter related to the alleged impersonation of a Secret Service agent by a political operative at a recent town hall forum hosted by the President.

I understand three Colorado residents were allegedly forcibly removed from a town hall forum on Social Security in Denver at the Wings Over the Rockies Museum on March 2, 2005 – one in a series of such forums hosted by President Bush – by an individual who may have been falsely posing as an agent of the U.S. Secret Service. The three also allege they were threatened with arrest if they did not leave.

I am extremely troubled by these allegations. Both Colorado state and federal laws make it a crime to impersonate a law enforcement officer. Specifically, Colorado law makes it clear that the impersonation of a law enforcement officer or public servant is a crime, §18-8-112 and §18-8-113, C.R.S. Moreover, under federal law, a crime is committed by a person impersonating a federal officer or employee and that crime is punishable by up to three years in prison, 18 U.S.C. §912. Other state or federal laws may apply.

The three Coloradans, Karen Bauer, Alex Young, and Leslie Weise have contacted me regarding their removal from the event. I accordingly ask you to undertake an investigation into this matter and, if the facts so warrant, to prosecute those who have violated either state or federal law.


Thank you in advance for your consideration of this request.

Sincerely,

Ken Salazar
United States Senator
You know, the Republican pretending to be an SS officer threatened the three young people with arrest as well as using some minor force to get them to leave the stadium. This is clearly illegal as the Senator notes.
Here is an example of how the law works:
From the Secret Service Government site:
Marcos D. Jiménez, United States Attorney for the Southern District of Florida, William Sims, Special Agent in Charge of the U.S. Secret Service, Miami Field Office, Michael S. Clemens, Special Agent in Charge of the Federal Bureau of Investigation, Miami Field Office, and Jon Sall, Special Agent in Charge, Coast Guard Investigative Service, Department of Homeland Security, announce that ROBERTO MARTIN was sentenced today by United States District Court Judge Ursula Ungaro on five counts of fraud. Martin previously had pleaded guilty to charges that he falsely impersonated federal agents in connection with a billion dollar fraud scheme. Following a four hour sentencing hearing, Martin was immediately remanded to serve a nine (9) year prison term. In addition, he was ordered to pay $774,625 in restitution to various victims, and a $500 special assessment.

As set forth in the Indictment, ROBERTO MARTIN was charged with participating in a scheme in which he sought to unjustly enrich himself by falsely representing to certain individuals that he worked with the Central Intelligence Agency on an alleged "secret operation" that involved obtaining money that had been stolen from Cuban dictator Fidel Castro, and that those individuals could receive a share of the money if they provided the defendants with money to finance the "secret operation." As part of the scheme, MARTIN claimed that he was a former Cuban intelligence officer who had defected from Cuba, and falsely represented that he was then working for the CIA on an alleged "secret operation" to recover money that he had helped steal from Castro. Previously, Martin's co-defendant, Christopher Johnson, pleaded guilty to similar charges that he falsely represented to others that he was "Special Agent Chris McClenic" of the United States Secret Service, and that he assisted MARTIN with the alleged "secret operation." At meetings with participants in the alleged "secret operation," MARTIN carried a firearm and a law enforcement-style badge case, and Johnson carried a firearm, wore an ear-piece style radio and used a business card from the USSS in the name of Chris McClenic.
He got eight years in the clink for this! It sounds identical to the law breaking of the Young Republican renegade, doesn't it?
Here is another, spooky story about real/fake Secret Service agents harrassing people.
From Essential Liberties.com:
The whole strange thing began nearly two years ago, when an acquaintance e-mailed me, wondering why the Secret Service had contacted him to ask if he thought I was a threat to George W. Bush. Me? A pretzel is more of a threat to Bush than I am. At the time, I was writing an unauthorized biography of Microsoft's C.E.O., Steve Ballmer. I fully expected the Beast from Redmond to keep tabs on me -- which, of course, it did and which, of course, Ballmer publicly denied -- but the Secret Service?

Private investigators have been known to intimate that they're with the government, so I called the Secret Service's Seattle office to report that someone might be impersonating one of their agents. No, the officer responded, they had wanted to contact me for the past eight months but couldn't find me. Weird -- my name and number were in the Seattle phone book. I went to their office to find out what was going on.

After a couple of pat-down searches, I sat in a small room with the good cop, Steve, and the bad cop, whom I'll call Cruella. Steve said they had received a report that, on Oct. 12, 2000, I was overheard in a D.C. bar saying, ''I have friends in the C.I.A. who will make sure Bush doesn't enter the White House.'' I responded that except for the facts that I don't have any friends in the C.I.A. (that I know of) and that I've never thought, let alone said, something like that, I was in Philadelphia that day. Unfazed, Cruella opened an inch-thick file. Everything I've ever done wrong in my life flashed before me. (Took about a nanosecond.) She then said, firmly, ''You've been arrested for trespassing on federal property in Washington.''

The jig was up. Brilliant police work. As was widely reported, in 1986 this son of a librarian was convicted of a petty misdemeanor, having been caught red-handed studying after hours in the Library of Congress. Seriously. I helped lead a successful civil disobedience action protesting evening-hours reductions by not leaving when the new hours went into effect.
I know if I dig hard, a number of such stories especially the "fake SS" stories will pop up because the GOP has been doing this for four long years. And will continue doing it. Why the SS wants to reduce their authority and purity in this fashion is obvious.
They are tools of the GOP, too. Unlike the CIA which demanded Rove be investigated, for they knew it was him from day one, the Secret Service will remain silent because they don't work for us, the citizens.
They work for the dictator, Bush.
To return to homepage click here