REAL LIBERAL SENATORS
Tonight, I want to go down memory lane. The subject of electing progressive Democrats to the Senate has crossed my desk in a rather forceful manner. Seeing the naked fear of being called "liberal" or being compared to anyone even faintly "liberal" really depressed and annoyed me.
So let's salute one of the greatest liberal Senators, ever, friend of my family, a man I adored and admired all my life, my former Senator from the former great state of Arizona, the man whose political base was my home town of Tucson, the liberal oasis in the desert!
From the Morris K. Udall web page:

Morris King Udall was born in St. Johns, Arizona, June 15, 1922, to a Mormon family with six children. At age seven, he lost his right eye in an accident, but this loss didn't stop him from becoming co-captain of his high school basketball team, quarterback for the football team, trumpet player in the school band, student body president and valedictorian. After graduation he entered The University of Arizona. His college career was interrupted from 1942 to 1945 when he served in the U.S. Army Air Corps in the Pacific, entering as a private and honorably discharged as captain.
In 1946, Udall returned to The University of Arizona and earned a law degree. He obtained an airplane pilot license, played professional basketball for the Denver Nuggets and, after scoring highest on the state bar exam, was admitted to the Arizona Bar and began practicing law with his brother Stewart.

He was elected to the U.S. House of Representatives in 1961 in a special election to replace his brother Stewart who left the position to become President John F. Kennedy's Secretary of the Interior.

Petitioned by many of his colleagues in the House of Representatives, Udall campaigned for the 1976 Democratic Party Presidential nomination. He finished second to Jimmy Carter, who was elected president. In 1977, Udall was named chairman of the House Committee on Interior and Insular Affairs (now Committee on Resources) until 1991.

Udall was diagnosed with Parkinson's disease, a neurological disorder impairing movement and speech, in 1979. In May 1991, he resigned from Congress for health reasons, and he died on 12 December 1998. He left six children, one stepson, and his wife, the former Norma Gilbert.


Udall was one of the most productive members of Congress in the latter part of this century. Chief among his accomplishments was the Alaska Lands Act of 1980, which doubled the size of the national park system, and tripled the size of the national wilderness system.

Other significant legislation includes: The Central Arizona Project, Postal Reform Act, Bill to Reform Congressional Franking Privileges, Strip Mining Reclamation Act, Indian Child Welfare Act, Civil Service Reforms, Archaeological Research Protection Act, Southern Arizona Water Rights Settlement Act, Nuclear Waste Management Policy Act, Arizona Wilderness Act, Amendment to the Price-Anderson provision of the Atomic Energy Act, Indian Gaming Act, Arizona Desert Wilderness Act, Tongass Timber Reform Act.

As well as serving in the House of Representatives for three decades, Udall ran unsuccessfully for the Democratic presidential nomination in 1976. He became one of the most creative and productive legislators of the century. His concern for Native Americans and love of the environment resulted in numerous pieces of legislation moving through Congress. He also authored important legislation on campaign reform, congressional ethics and was the first major Democrat to oppose President Johnson on the Vietnam War.

Udall's sense of humor, civility and a strong bipartisan spirit led him to distinguish between political opponents and enemies. One of Udall's closest longtime friends was the rock of Republican conservatism, Arizona Senator Barry Goldwater. To honor his family's contributions to public service, The Udall Center for Studies in Public Policy, The Morris K. Udall Foundation, and the U.S. Institute for Environmental Conflict Resolution, all continue the Udall's legacy to improve the American experiment.
He was Mr. Clean. He lived a fairly spartan life. He didn't ask for much at all. He, like my parents, lived within the splendors of Nature and surrounded by the Inca Dove and the Vulture, the Mule Deer and the Mountain Lion, the delicate and harsh beauty of the desert and lightning and saguaros was the cultural treasure he cared so carefully for and doted on.
Sigh.
Here is a famous speech about government ethics by this great Senator:
Politics and Morality
Charles Dickens begins his "Tale of Two Cities" with a paradoxical statement that "it was the best of times, it was the worst of times." Dickens wrote of the 1770's and the French Revolution, but his description might well be applied to our own time and to our collective experience in the 1960's. For in many ways, this last decade was both the best and the worst of times. It was a time when we put a man on the moon, an event as much a symbol of our astounding technological progress as it was a result of that progress. It was the best of times in other ways, too, for the 1960's saw the culmination of social reform efforts begun more than 30 years earlier.
But it was also a decade when mobs put the torch to some of America's sick and deteriorating cities; when three of our most promising leaders fell in senseless assassinations; when we became embroiled in a hopeless war that has done incalculable damage to us and to the people of a far off land.

As a result of the worst aspects of the times, it seems to me we are on the verge of losing a typical American quality -- optimism. One of America's unique strengths and most obvious national characteristics has always been optimism. We have believed -- and our history has tended to support this view -- that America would be bigger and better and more prosperous for each generation. A man could hope and dream that his children would surpass his own achievements. We believe that when crises arose, leaders, somehow, would appear to match the times.
All of this stuff really takes me back to my earlier memories in my life which are intimately tied to the famous mountain of Kitt Peak. Both Stewart Udall who became Sec. of the Interior in 1961 and Mo Udall, who became the Senator that same year, were instrumental in helping Kitt Peak get off the ground.
Here is my father at the treaty signing.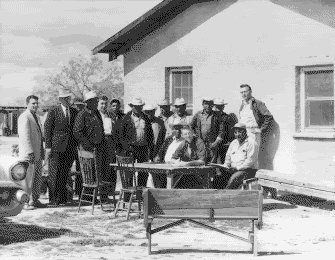 My dad is the handsome tall man leaning against the building. Dr. Carpenter is sitting at the table. I remember this house, by the way. The lady who lived there made awesome tortillas by hand.
Kitt Peak is a sacred mountain. My father told me, he flew over it and fell instantly in love with the mountain and prayed hard that it would pass muster. I remember my first day there. We drove on this narrow road in the desert that went up and down through each arroyo. We came to the tribal leader's home and my dad chatted and then we went to the mountain itself. I looked up the complex mountain soaring so near yet so high. It sang to me. I fell in love. This place was to become utterly intertwined with my dream world as well as waking world. I ended up exploring every inch of Kitt Peak over the years.
My father and Dr. Carpenter talk about Kitt Peak and their first visit to the mountain.
Here is a picture of the old South Face road. I remember the jeep! We used to ride on the sideboards and hang on as it banged along in the deep ruts. Riding the cat tractor was even more fun. The back road ran through desert that was scattered with thousands of shards of broken pottery and discarded corn grinder stones and the rivers had treasure troves of sand rubies which I used to sift for, squatting with the children of the tribe, searching for the shiny red stones.
The Udalls had an interest in all this and much, much more. As I grew older, I could see how their love of the desert, their respect for the natives, their careful care of the planet, this was the true spirit of the West! This is why Muir, when he passed through the Tucson valley, declared a century earlier that this was a most beautiful place!
Mo was taller than my dad who is tall. When I was really small, I thought he was like Old Man Saguaro. Old Man was ancient as well as very tall. Unlike Mo, multiarmed.
Kitt Peak is famous for the lightning photos. I got struck there, too. But then, this happens to me rather a lot.
Well, to continue after going way off course....who would have imagined Arizona would produce the Udall family? All of them, wonderful people. Much of what we take for granted to day were things they decided to save for us to enjoy. Yet they also developed the resources of the desert and the tribes. In addition, they worked with Presidents and Congress to change the mining laws, for example, so lovely places like the Appalacian mountains wouldn't end up a moonscape. Oh, did I tell you the GOP has gutted those laws recently? No?
They did.
The tension in the West can be summed up thusly: some come to rip the place apart, yank out whatever they can grab and then leave. Some come to live and love. Preservation and death intertwine. The rocket launching grounds of China Lake or White Sands, I know them well, too. The stark, hot beauty and deadly fear. Then there is the atom bomb's birthplace. Death. Shin.
The entire West is perched on the edge of a very serious environmental cliff. Water is being used extravegantly and wastefully. People are abusing themselves and the lands. The stresses are growing, not diminishing. People are pouring in from all over. The West is terribly fragile, and in addition, awfully geologically active.
The Udalls understood all of this. Not all at once. This family reached out to learn about Nature and to understand how Nature responds and how it all fits neatly together. This took time which they devoted to using. I learned just as they did, we all learned together.
But learning means nothing without love. And I loved Mo and Stewart Udall and I loved the Desert. (And the Dark Side: his wife committed suicide. The Desert is a Harsh Mistress)
To return to homepage click here