CHATHAM, NY 8/17 VIGIL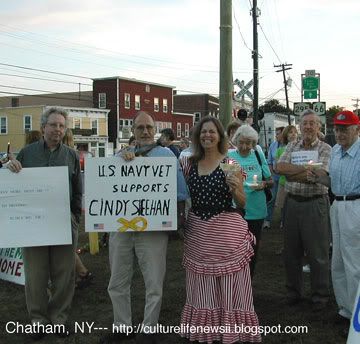 By Elaine Meinel Supkis
Today was a lovely, balmy summer day and the evening came softly and cool with pink clouds decorating the sky as if it were a birthday cake. I ventured off my mountain to join the "Support Cindy" vigil. It started at 7:30 EDST and ended at 9. When I arrived at the start, the candles were already lit even though the sky was still bright but the darkness fell as we stood about, chatting and sharing.
The village is very small and is set in farm country. It is pratically where the famous Rt 66 begins. This intersection is where the two main roads cross the train tracks. Even as we were there, freight trains rumbled ponderously past us.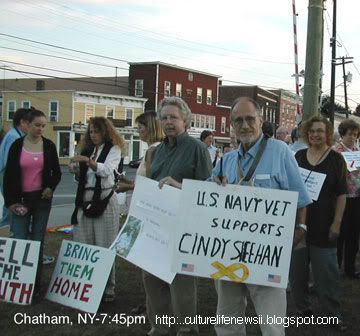 Navy vets against the wars.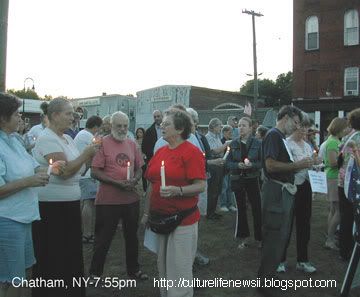 Quite a few mothers and grandmothers, all very concerned about the draft happening again, all in great sympathy with the loss of children other mothers have suffered in these wars.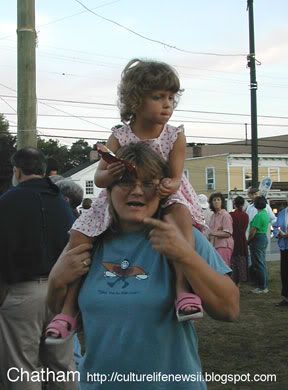 A mother gives directions. There were a number of children at this vigil. They were joyful and pleasant.
We had nearly 100 people show up. At the Moveon.com site, only 45 had signed up so nearly twice as many came via other means. Many said, their friends emailed or called them.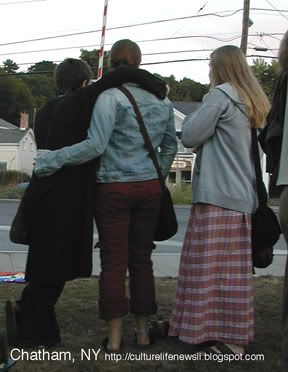 As we cleaned up at the end, even the children pitched in.
What amused me the most was the fact that I met two men tonight who had crossed my path many years ago at Berkeley, in the sixties. While throwing out names and addresses and places we hung out, we hashed out where we met back then. It was rather funny for despite our collective ages, we still could recognize each other. The police stayed away from our demonstration and only ticketed a speeding car that drove near by.
One person handed out homemade bread. He was rather amusing, reminded me very much of the Diggers in SF. He belonged to one of the several communes that still exist out here. One man told me he was building a house in one of the communal lands that are run by the Quakers. We talked about energy and it turned out, he used to work for Shell oil!
My, the world is small.
I really recommend attending these events. The people are nice, the feeling of being part of something is worth it and the entry fee is free so where can you lose? A win/win for us all. Do log on to
MOVE ON.ORG
and get their emails.
Peace.
MORE VIGIL VISUALS:
Pictures Noel Adamson took last night
Pictures taken by Scout Prime (who is often at Atrios)
To return to homepage click here