IN THE DEAD OF NIGHT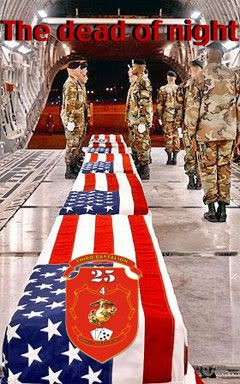 By Elaine Meinel Supkis
Everywhere my ancestors settled as they moved across the continent, they named either Peru or Lima in memory of the Pettit progenitor who was a pirate. Once again, the Marines based in Lima, Ohio, make the news. It used to be, if over five soldiers died and many more were badly injured, this made headline news. Now the stories sink lower and lower in regard and it has reached "ho hum" status.
Ohio is in the news today also because thanks to the GOP's running dogs, a war hero has been repudiated in the polls in favor of a person who thinks we fight at home rather than in Iraq because the real enemy is birth control and gay men kissing.
I can see why our rulers want us to pop out more baby boys for them. But even this woman looks like she would have to turn off all the lights first, in order to achieve this goal. No wonder they are so dissatisfied.
From Newsday:
Six Marine reservists attached to the same suburban Cleveland unit were killed while on sniper duty in Iraq, a military official said on Tuesday.

"Every single one of them is a hero," said Lt. Col. Kevin Rush of the Headquarters and Service Co. 3rd Battalion, 25th Marines based in Brook Park, a suburb of about 21,000 people southwest of Cleveland.
All six were killed on Monday in northwest Iraq. All were from northeast Ohio.

Rush did not have specific details about how they were killed and said unit members in Iraq were under a military imposed communications blackout to make sure none of the names were disclosed until the Pentagon was satisfied that the victims' families were notified.

The mother of Sgt. Nathaniel Rock, 26, of Toronto, about 90 miles southeast of Cleveland, said military officials told her Monday that her son had been killed.

Rock spent six years in the Marines after graduating from high school in 1997 and then joined the reserves, Adriana Rock said. At home in Ohio, he worked as a part-time police officer in Martins Ferry.

"He was very proud to be a Marine," she said.

The battalion was activated in January and went to Iraq in March. The unit's Web site lists 25 of its Marines who have been killed this year.

Lima Company, a unit of the battalion based in Columbus, has lost 11 servicemen since the beginning of the war, an official with the company said Friday. It suffered four deaths during one operation in May.
It is interesting that the civilians running our military have insisted that the bodies be brought home at night only. In the utter darkeness before dawn, in strictest security, the coffins are disgourged and whisked away as fast as possible. Meanwhile, the civilians running this disgusting charade insist they are patriotic and they honor the dead. Of course, the dead don't run for office.
Then they are called "staff pukes" and other ugly names.
The mood was somber but businesslike at the nondescript, one-story brick Marine training center, located on a residential block near a local fire station. The unit's few Marines not serving in Iraq shuttled media around the headquarters but would not speak with reporters because of the gag order.

"The six Marines killed in action yesterday in Iraq represent the best of the best of this nation," said Rep. Dennis Kucinich, an outspoken critic of the war whose district includes the headquarters. "These brave and courageous soldiers will forever be remembered as heroes."
Reporters show up since this unit has been hard hit several times. No one is allowed to talk about the dead because of the gag order. Well, I wonder what turtle crawls from house to house to inform the families? I know they want "formalities" and such, the awful van drawing up to the home of the bereaved who have been waiting in anxious fear since seeing the back page news stories.
The group of sombre men walking up to the front door. The ritualistic ringing of the bell. The wails and cries of pain inside the house before the door opens. Face drained of all blood, the bereaved let the grim men inside. Then the news breaks officially.
Well, once this process of pain is done, then they can talk about the dead.
Unfortunately, the press has moved on to other, more "interesting" stories so there won't be a tribe of reporters prowling the base, asking for information. This process plays into the hands of the rulers who don't want us to know the names and faces of the fallen. Note how enraged they were when one TV network decided to just read the names and show the faces, 1,000 dead people ago. They acted like this was some sort of crime.
From Truthout.org
Haban, Iraq - The explosion enveloped the armored vehicle in flames, sending orange balls of fire bubbling above the trees along the Euphrates River near the Syrian border.

Marines in surrounding vehicles threw open their hatches and took off running across the plowed fields, toward the already blackening metal of the destroyed vehicle. Shouting, they pulled to safety those they could, as the flames ignited the bullets, mortar rounds, flares and grenades inside, rocketing them into the sky and across pastures.

Gunnery Sgt. Chuck Hurley emerged from the smoke and turmoil around the vehicle, circling toward the spot where helicopters would later land to pick up casualties. As he passed one group of Marines, he uttered one sentence: "That was the same squad."

Among the four Marines killed and 10 wounded when an explosive device erupted under their Amtrac on Wednesday were the last battle-ready members of a squad that four days earlier had battled foreign fighters holed up in a house in the town of Ubaydi. In that fight, two squad members were killed and five were wounded.

In 96 hours of fighting and ambushes in far western Iraq, the squad had ceased to be.

Every member of the squad - one of three that make up the 1st Platoon of Lima Company, 3rd Battalion, 25th Regiment - had been killed or wounded, Marines here said. All told, the 1st Platoon - which Hurley commands - had sustained 60 percent casualties, demolishing it as a fighting force.

"They used to call it Lucky Lima," said Maj. Steve Lawson, commander of the company. "That turned around and bit us."
The Pentagon sent this unhappy group right back into Iraq just a mere month after it was badly decimated. Now they got decimated yet some more.
"That's the last of the squad," said another, Cpl. Craig Miller, whose reassignment last month had taken him out of the unit. "Three weeks ago, that would have been me."

Late Wednesday, helicopters flew out Hurley and the remaining members of 1st Platoon for time off. They are to return after the platoon is remade, Marines said.
Some break, no? What? A week?
As we watch our military get ground down, Russia and China flex their muscles. In two weeks, they will conduct war games. Uzbekistan is kicking us out of a key province we tagged as our own. The surrender talks in Korea continue as we twist and turn, trying desperately to not make it look like a surrender to a member of the Axis of Evil and a strong hardliner is taking over Iran this week and he has every intention of being a good friend of Russia and China while extending his power over southern Iraq.
About southern Iraq: it seems quiet only because it is now a fortress of power for the Shi'ite radicals who pretty much run the place and don't let anyone meddle in their affairs.
From Yahoo news:
An American freelance journalist was found dead in the southern Iraqi city of Basra, the U.S. Embassy said Wednesday.

Police said Steven Vincent had been shot multiple times after he and his Iraqi translator were abducted at gunpoint hours earlier.
The British aren't being killed simply because they aren't running anything in that place. They hide out in their various spider holes and hope no one notices they are lurking about the place.
Vincent and the translator were seized Tuesday afternoon by five gunmen in a police car as they left a currency exchange shop, police Lt. Col. Karim al-Zaidi said.

Vincent's body was discovered on the side of the highway south of Basra later. He had been shot in the head and multiple times in the body, al-Zaidi said.

Police said Vincent, a writer who had been living in New York, had been staying in Basra for several months working on a book about the history of the city.

In an opinion column published July 31 in The New York Times, Vincent wrote that Basra's police force had been heavily infiltrated by members of Shiite political groups, including those loyal to radical cleric Muqtada al-Sadr.

Vincent quoted an unidentified Iraqi police lieutenant as saying that some police were behind many of the assassinations of former Baath Party members that have taken place in Basra.

"He told me that there is even a sort of "death car" — a white Toyota Mark II that glides through the city streets, carrying off-duty police officers in the pay of extremist religious groups to their next assignment," he wrote.

Vincent was also critical of the British military, which is responsible for security in Basra, for turning a blind eye to abuses of power by Shiite extremists in the city.
Bet more than one entity wanted this pesky reporter dead. Just as our rulers want us to get only good news from this mess, the residents in southern Iraq want to work in the dark. I remember the campaign to destroy al Sadr. There were tons of news stories and lots of talk about him. Then we threw away a Marine division, going after him. We then declared victory and let him be installed into the government of Iraq.
Way to go. This is how we are fighting the
War on Terror
War on Violent Extremism: by surrendering abjectly.
To return to homepage click here
BREAKING NEWS: Even as I clicked to post this story, my husband, on the other computer, said, "Look! 14 Marines just got killed in the same city!" Sure enough.
From the BBC:
It is one of the deadliest attacks on US forces since the 2003 invasion.

It happened near the city of Haditha, in the same area as an incident on Monday in which six US marines were killed by hostile gunfire.

The city is near the Syrian border in an area that has seen frequent insurgent assaults against US troops.

The bomb is reported to have exploded near an amphibious assault vehicle travelling south of Haditha. One other marine was wounded.

At least 37 US military personnel have been killed in Iraq in the last 10 days during in a period of intense violence, but the latest Haditha attack ranks among the biggest US losses.
Good grief. Right on the heels of the GOP loudmouths mouthing off about a real Marine from Ohio which seems to be taking it on the chin.
And thank you, BBC, for the death tally. I certainly couldn't get it from the American media. Geeze. This is far spookier than the Vietnam war. I remember that time. Every day, the casualty list was put on the news. Not now.
I hope Ohio is happy with the harpy they just elected.