VIGILS FOR PEACE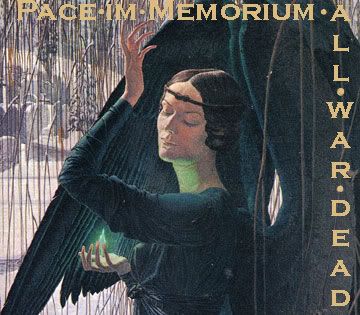 Painting by Carlos Schwabe, painted at end of WWI.
By Elaine Meinel Supkis
I just got the email from Moveon.org.
Dear MoveOn member,

Late last night, a pick-up truck dragging chains ran over the rows of white crosses on the side of the road near Cindy Sheehan's vigil. Each cross commemorated a dead soldier; this morning, many of them were broken or gone.1 But Cindy and the other moms in Crawford have vowed to stay, and now a neighboring rancher, who is a veteran, has offered them some of his nearby land if they have to move from the roadside.

The spirit of that rancher standing up in his own pro-Bush community is the sort of public support for Cindy Sheehan and her cause that is growing across America. Tomorrow's vigils for Cindy Sheehan will be the most visible measure of the size and strength of public concern about the war in a long time. It is critical to have as many vigils as possible and as many attendees as possible to demonstrate the wave of public support for Cindy.

Can you join us? You can find a vigil near you by clicking this link:

Vigils for Cindy Sheehan
7:30 PM :: Wednesday, August 17, 2005
Homepage for vigils here

You can find the vigil closest to you by typing your zip code and clicking search. There are more than 900 vigils already planned across America. From Anchorage to Miami, and hundreds of towns in between, people are gathering tomorrow. There is a vigil in Cindy's hometown of Vacaville, California and more than a dozen in New York City.

Most of them are organized by single individuals. Some are organized by groups of people working together. Just like the folks in Crawford, Texas we can all do our part.

Attending a vigil is really easy. All you have to do is grab some candles and show up. If you're an Iraq veteran, or a family member of a soldier, it'd be especially meaningful for you to join us. Bring a photo of your loved one to remind all of us what is at stake. We've also made some downloadable placards you can use. Click below to download them.

Vigil information click here!

These vigils aren't rallies or places to give long-winded speeches. They are moments to solemnly come together and mark the sacrifice of Cindy and other families.

Please find the vigil nearest you today and RSVP.

Thanks for all you do.

–Tom, Nita and MoveOn moms Carrie, Marika and Joan
Tuesday, August 16, 2005
I will try to cover the events near where I live. One vigil, a small one, will be held in the village of Chatham, NY. I may have time to go to photograph the much bigger one in Albany, too. If anyone reading my blog lives in this area, give me a big hello. I will be chanting a Buddhist peace chant, Na Mu Myo Ho Ren Ge Kyo. I hope to see a lot of people there.
For we can't just feel sorry for our very well armed soldiers dying, for every one of their deaths, hundreds, thousands of poorly or unarmed civilians die. The toll from WWII, the worst war to wrack this planet, was 54 million deaths, about 80% of them, civilian. Millions of babies, millions of small children, butcherd, burned, starved and tortured to death.
We must remember that the scythe of war takes down the tenderest of sprouts and it leaves ashes in its wake.
We must pray that America stop killing.
To return to homepage click here