CONDI IS OUT SHOPPING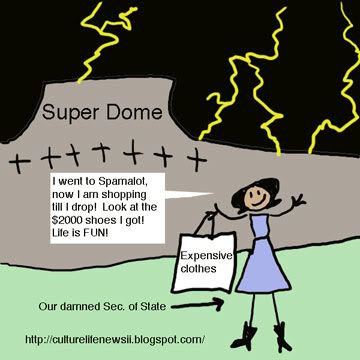 Sorry about the crude toon. I was crying too hard.
By Elaine Meinel Supkis
From one of the great posters at Atrios!

According to Drudge, Secretary of State Condoleezza Rice has recently enjoyed a little Broadway entertainment. And Page Six reports that she's also working on her backhand with Monica Seles. So the Gulf Coast has gone all Mad Max, women are being raped in the Superdome, and Rice is enjoying a brief vacation in New York. We wish we were surprised.

What does surprise us: Just moments ago at the Ferragamo on 5th Avenue, Condoleeza Rice was seen spending several thousands of dollars on some nice, new shoes (we've confirmed this, so her new heels will surely get coverage from the WaPo's Robin Givhan). A fellow shopper, unable to fathom the absurdity of Rice's timing, went up to the Secretary and reportedly shouted, "How dare you shop for shoes while thousands are dying and homeless!" Never one to have her fashion choices questioned, Rice had security PHYSICALLY REMOVE the woman.

Angry Lady, whoever you are, we love you. You are a true American.
Marie Antoinette was more civilized than this crew. I literally threw up before drawing the cartoon. This is very upsetting. I am going to the Peace Pagoda to pray. I am literally sick to my stomach.
Gack.
To return to homepage click here