MOUNT SLOWPOKE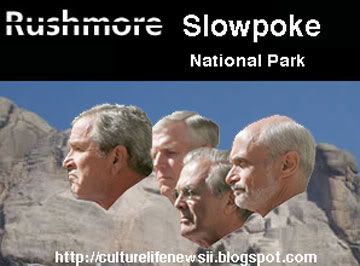 Bush and his cabinet explain why they know nothing and are out of the loop and slower than dead turtles.
Cartoon by Elaine Meinel Supkis
By Elaine Meinel Supkis
Here is our security chief, the Bumbling Baria, the Goofy Goering of the USA team, explaining himself to us.
From Yahoo news:
Hurricane Katrina and the collapse of New Orleans' levees had the combined force of an "atomic bomb" being dropped on the city that could not have been foreseen, the US security czar insisted.

In a staunch defence of the government against accusations it failed to prepare for the catastrophe, Homeland Security Secretary Michael Chertoff insisted Washington had done everything it could to protect the stricken region but that the failure of New Orleans' dykes could not have been predicted.

"This is probably the worst catastrophe, or set of catastrophes certainly that I'm aware of in the history of the country. It was a devastating hurricane followed by a devastating flood," Chertoff said.

"It was as if an atomic bomb was dropped on New Orleans," he said of the double whammy.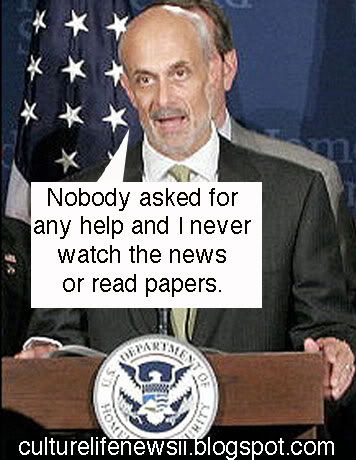 Jerkoff telling us the truth
"That perfect storm combination of catastrophes exceeded the foresight of the planners and maybe anybody's foresight," he said as President George W. Bush's administration came under intense fire for its handling of the disaster
Pray to the gods we don't have a nuke hit us next. At least he didn't mention meteor strikes! Mr. Bill of TV fame foresaw this dyke failure. I did, too..what ails these men and their tepid imaginations? Do they watch only Barney the Dinosaur?
BREAKING NEWS: Senator Landiereu of Louisiana has horrible news for us.
From Americablog:
Bush faked levee repair for photo op yesterday
by John in DC - 9/03/2005 06:29:00 PM

From a press release LA Senator Mary Landrieu sent out today:
But perhaps the greatest disappointment stands at the breached 17th Street levee. Touring this critical site yesterday with the President, I saw what I believed to be a real and significant effort to get a handle on a major cause of this catastrophe. Flying over this critical spot again this morning, less than 24 hours later, it became apparent that yesterday we witnessed a hastily prepared stage set for a Presidential photo opportunity; and the desperately needed resources we saw were this morning reduced to a single, lonely piece of equipment. The good and decent people of southeast Louisiana and the Gulf Coast - black and white, rich and poor, young annd old - deserve far better from their national government.
Welcome to Potemkin USA. Everything is fake but the dead bodies.
They are, alas, real.
From Alert net:

In one, a young man was run down and then shot by a New Orleans police officer, in another a man seeking help was gunned down by a National Guard soldier, witnesses said.

Police here refused to discuss or confirm either incident. National Guard spokesman Lt. Col Pete Schneider said "I have not heard any information of a weapon being discharged."

"They killed a man here last night," Steve Banka, 28, told Reuters. "A young lady was being raped and stabbed. And the sounds of her screaming got to this man and so he ran out into the street to get help from troops, to try to flag down a passing truck of them, and he jumped up on the truck's windscreen and they shot him dead."

Wade Batiste, 48, recounted another tale of horror.

"Last night at 8 p.m. they shot a kid of just 16. He was just crossing the street. They ran him over, the New Orleans police did, and then they got out of the car and shot him in the head," Batiste said.

The young man's body lay in the street by the Convention Center's entrance on Saturday morning, covered in a black blanket, a stream of congealed blood staining the street around him. Nearby his family sat in shock.

A member of that family, Africa Brumfield, 32, confirmed the incident but declined to be quoted about it, saying her family did not wish to discuss it. But she spoke of general conditions here.

"There is rapes going on here. Women cannot go to the bathroom without men. They are raping them and slitting their throats. They keep telling us the buses are coming but they never leave," she said through tears.

People here said there were now 22 bodies of adults and children stored inside the building, but troops guarding the building refused to confirm that and threatened to beat reporters seeking access to the makeshift morgue.

People trying to walk out are forced back at gunpoint - something troops said was for their own safety. "It's sad, but how far do you think they would get," one soldier said.
This ordeal is now over. They removed the living but are still trying to remove all the dead. Evidently more than three babies died.
All that weeping for fetuses and brain dead women but this! I hope the right wingers cry their eyes out.
"We found a young girl raped and killed in the bathroom," one National Guard soldier told Reuters. "Then the crowd got the man and they beat him to death."
There were guards inside from the very start. At one point, they kicked out professional chefs from the kitchen at gun point. But when this poor woman was screaming for help, they suddenly were gone. Probably cooking dinner. Yeah.
Now for someone who gets the Golden Scapegoat Award, another whistle blower in the past who could easily imagine the dykes breaking:
From CNN archives 2002:
he Pentagon said Assistant Secretary of the Army Mike Parker resigned from his post and expressed appreciation for his contributions. But congressional aides said Rumsfeld wanted Parker fired after his testimony to Congress last week.

The White House declined comment. But a senior Bush administration official would not dispute the report that Parker, a former congressman from Mississippi, had been asked to leave.

"The administration expects its staff to support its budget," the official told CNN.

The head of the Army's civil works division, Parker was "terribly honest" in his testimony to the Senate Budget Committee, congressional aides said.

Parker said Bush's proposal to provide the Army Corps of Engineers with approximately $4 billion -- down about 10 percent -- was not the right number. The corps had requested more than $6 billion. The assistant secretary told lawmakers that the cuts would mean canceling $190 million in already contracted projects.

Sen. Kent Conrad, D-North Dakota, the committee's chairman, called the decision to let Parker go "a serious mistake."

"Assistant Secretary Parker came before the Budget Committee and answered questions put to him honestly and directly," Conrad said. "That is precisely his responsibility in our constitutional system.

"The administration will cost itself credibility with Congress if it attempts to suppress the truth from its own representatives who testify before Congress."

A senior Bush aide said that when the budget is final, you "want everybody to support it." Parker, the aide said, "doesn't appear to agree with the president's budget."
They were cutting taxes wildly and the deficit was soaring to over half a trillion. The war in Iraq was around the corner. They needed money for that.
The city is burning. The water is covered with oil and gasoline and other chemicals.
From CNN:
While thousands of people waited to be evacuated from the squalor of flood-stricken New Orleans, two major fires raged along the waterfront on Saturday.

Without water in the hydrants, firefighters were helpless. They were forced to abandon efforts to fight a blaze that threatened to consume an upscale riverfront mall on Canal Street, where looters had been seen earlier.

Fifty-foot flames also engulfed an industrial district along the Mississippi River and threatened to spread from warehouse to warehouse. (Watch the fires sweep along waterfront)

Although much of the city is covered with foul water, there is no water pressure. An attempt to bring water tankers and fireboats into the area was unsuccessful.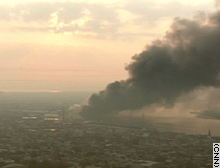 If we can't arrest Jerkoff and his band of lunatics, perhaps we can airdrop them into the oily waters with a spray can to fight the fires. Send Tierney the Toddler along. He needs to learn some life lessons.
Every day, new revelations. Or maybe, new Apocalypses.
Damn.
To return to homepage click here