POINTING FINGERS INTO BUSH'S EYE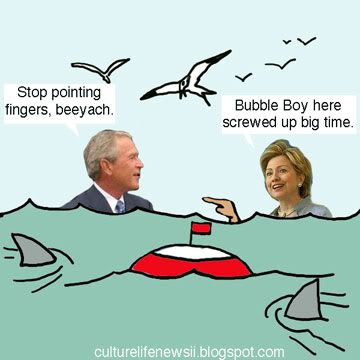 Cartoon by Elaine Meinel Supkis
By Elaine Meinel Supkis
Like the rotting carcass of a great white whale, the GOP and their buddies in the media have slowly bubbled to the surface to begin Operation Save Bubble Boy's Ass. They have warned everyone to not finger point. When several officials and mayors and govenors broke down on the air and pointed fingers, the media worms have been hard at work shoring up the secondary dikes in this operation, the first breeched and their leader's bubble filling with toxic water.
So they are now screaming at any and all Democrats to shut up and do not point fingers. Do not ask questions about Chernoff and his traitor wife who was part of the FEMA reorganizing team, she using her influence to get contracts from Homeland Security for Israeli companies so American dollars could be shipped to another country and Zionists get good paying jobs. Number one! Whee!
We aren't supposed to point fingers at Brownie who is only a stupid frat rat buddy of Allbough! He was trying his best in between beer blowouts! Geeze.
From the Washington Post:
The raging debate over what happened after Hurricane Katrina hit New Orleans and the Gulf Coast has provided Sen. Hillary Rodham Clinton (N.Y.) an opportunity to emerge as a national spokeswoman for the Democratic Party, stirring Republican criticism that she and other Democrats are seeking political gain at a moment of national crisis.

Clinton has long maintained that she is focused solely on serving the interests of her New York constituents. But she was on all three network morning shows yesterday to promote her call for returning the Federal Emergency Management Agency (FEMA) to independent status, and for creating an independent commission to investigate what went wrong when the storm hit and the levees gave way in New Orleans.

Her high-profile role, which Republicans say is tinged with 2008 presidential politics, has created a potentially sensitive situation for her husband, former president Bill Clinton. President Bush has tapped him to join with former president George H.W. Bush in reprising the role they played last winter raising private money for Asian tsunami victims. Clinton does not want to jeopardize what has become both a working relationship and a friendship with the elder Bush.
Kick the elder Bush in the balls if he feels hurt because his stupid son is being scolded! As for running for President: well, duh! Isn't this what politicians do? Run for office? Eh? Bubble Boy has to stop rescues and fire fighting just so he can have a few photo ops and his gang is complaining about electioneering?
Other Democrats, lead by Senate Minority Leader Harry M. Reid (Nev.) and House Minority Leader Nancy Pelosi (Calif.) have been far more strident than the Clintons -- so much so that both Republican and Democratic strategists said yesterday the opposition party is in danger of overplaying its hand. The harsh rhetoric, the strategists said, could create a backlash among the public and engender sympathy for a president who has been on the defensive much of the past week.

Pelosi yesterday described Bush as "oblivious, in denial, dangerous" to problems in and around New Orleans, and to what she said were his administration's failures in their response. Reid urged a Senate investigating committee to probe whether Bush's out-of-town vacation contributed to what has been judged as a slow response by the federal government.

Lending further evidence that Katrina is rapidly becoming a war between the parties, the political action committee of MoveOn.org announced a public rally across from the White House this afternoon. It is to include evacuees demanding the president "acknowledge that budget cuts and indifference by his administration led to the disaster in New Orleans and along the Mississippi Gulf Coast."
Just a foretaste of the coming Sept. 24th demonstrations!
From the NYT:
Race was a factor in the death toll from Hurricane Katrina, Howard Dean told members of the National Baptist Convention of America on Wednesday at the group's annual meeting.

Dean, chairman of the Democratic party, made the comments to the Baptists' Political and Social Justice Commission. The Baptist Convention, with an estimated 3.5 million members, is one of the largest black religious groups in the country.

''We must ... come to terms with the ugly truth that skin color, age and economics played a deadly role in who survived and who did not,'' Dean said.

Dean said Americans have a moral responsibility to not ignore the devastating damage caused by Hurricane Katrina when it struck the Gulf Coast.

The former presidential candidate said the government will be judged by how it treats the old, the young and the poor.

''People are poor in different parts of the country. They are not refugees. They are Americans,'' he said.

Dean said that instead of considering proposed estate tax breaks, the Senate should channel the money into disaster relief.

''Shall we give that to the wealthiest people in the country, or should we rebuild New Orleans?'' Dean said.

Dean also urged the government to exempt victims of Hurricane Katrina from a stricter new bankruptcy law for one year.

Ken Mehlman, Dean's counterpart at the Republican National Committee, said he hoped Dean ''will match his rhetoric with his support for reforms that replace bureaucracy and entitlement with hope and opportunity.''
Mehlman attacked Hillary for finger pointing, calling her a "far leftist" (hahahaha) and he wants Dr. Dean to cut entitlements? Ye gads. The Marie Antoinette award committee will have to sort through a veritable landslide of nominations.
But we suspect we have a winner already. Babs Bush, the creature of the Black Lagoon.
From Crooks and Liars.com:
"At a news conference, Pelosi, D-Calif., said Bush's choice for head of the Federal Emergency Management Agency had ''absolutely no credentials.''

She related that she had urged Bush at the White House on Tuesday to fire Michael Brown...


''He said 'Why would I do that?''' Pelosi said.

''I said because of all that went wrong, of all that didn't go right last week.' And he said 'What didn't go right?'''

''Oblivious, in denial, dangerous,'' she added."
Pelosi, you miss the boat here, big time! "What didn't go right?" is Bush blurting out the truth! In his eyes destroying a deep south black Democratic bastion is a great success, wildly so! The pictures I saw of his first fly-over, I noted he was smiling! Like on 9/11. He only stops smiling when everyone is yelling at him but give him three months of petting and he will be joking, "I won the trifecta! An attack on NYC, New Orleans destroyed in a hurricane and now LA laid to waste in an earthquake! Whoo hoo!" and his fascist supporters will cheer wildly. Three Democratic strongholds in ruins! Whoopee!
Luckily for us, China wants San Francisco, Seatlle and NYC intact. They will be mightily pissed if these places, and LA for that matter, are wrecked. Bush and lay the South to waste as far as they are concerned but not those cities.
FEMA
For historical purposes, I am parking this here.
WASHINGTON D.C. -- Michael D. Brown, Under Secretary of Homeland Security for Emergency Preparedness and Response and head of the Federal Emergency Management Agency (FEMA), today urged all fire and emergency services departments not to respond to counties and states affected by Hurricane Katrina without being requested and lawfully dispatched by state and local authorities under mutual aid agreements and the Emergency Management Assistance Compact.

"The response to Hurricane Katrina must be well coordinated between federal, state and local officials to most effectively protect life and property," Brown said. "We appreciate the willingness and generosity of our Nation's first responders to deploy during disasters. But such efforts must be coordinated so that fire-rescue efforts are the most effective possible."

The U.S. Fire Administration, part of FEMA, asks that fire and emergency services organizations remain in contact with their local and state emergency management agency officials for updates on requirements in the affected areas.

"It is critical that fire and emergency departments across the country remain in their jurisdictions until such time as the affected states request assistance," said U.S. Fire Administrator R. David Paulison. "State and local mutual aid agreements are in place as is the Emergency Management Assistance Compact and those mechanisms will be used to request and task resources needed in the affected areas."

Paulison said the National Incident Management System is being used during the response to Hurricane Katrina and that self-dispatching volunteer assistance could significantly complicate the response and recovery effort.

FEMA prepares the nation for all hazards and manages federal response and recovery efforts following any national incident. FEMA also initiates mitigation activities, trains first responders, works with state and local emergency managers, and manages the National Flood Insurance Program and the U.S. Fire Administration. FEMA became part of the U.S. Department of Homeland Security on March 1, 2003.
Arg. Morons.
From the NYT:
Two Navy helicopter pilots and their crews returned from New Orleans on Aug. 30 expecting to be greeted as lifesavers after ferrying more than 100 hurricane victims to safety.

Instead, their superiors chided the pilots, Lt. David Shand and Lt. Matt Udkow, at a meeting the next morning for rescuing civilians when their assignment that day had been to deliver food and water to military installations along the Gulf Coast.

"I felt it was a great day because we resupplied the people we needed to and we rescued people, too," Lieutenant Udkow said. But the air operations commander at Pensacola Naval Air Station "reminded us that the logistical mission needed to be our area of focus."

The episode illustrates how the rescue effort in the days immediately after Hurricane Katrina had to compete with the military's other, more mundane logistical needs.
Fucking A. The military that had no one starving or dying of thirst, comes first. Rescuing dying people from rooftops is not only secondary but verboten.
Arrest the officer who gave these orders! Arrest the traitor who disciplined these heroes! Arrest Bush, Cheney, Brownie and Jerkoff! Arrest them all.
Recalling the rescues in an interview, he became so emotional that he had to stop and compose himself. At one point, he said, he executed a tricky landing at a highway overpass, where more than 35 people were marooned.

Lieutenant Udkow said that he saw few other rescue helicopters in New Orleans that day. The toughest part, he said, was seeing so many people imploring him to pick them up and having to leave some.

"I would be looking at a family of two on one roof and maybe a family of six on another roof, and I would have to make a decision who to rescue," he said. "It wasn't easy."
Damn the people in positions of power who had no imagination, no sympathy, the cannibals who now rule and run America. They are traitors for they have fatally weakened our country to the point that our cannibal rulers must crawl on their bellies in China begging for more money for their $3 million palaces!
Shame on them all. Arrest them.
To return to homepage click here