SHOE LEATHER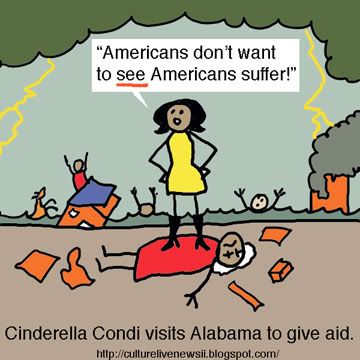 Cartoon by Elaine Meinel Supkis
By Elaine Meinel Supkis
Little Miss Cinderella Shoe Shopper has decided to buff her image and trot down to Alabam' to scold us about how much she cares about us!
From Yahoo:
Secretary of State Condoleezza Rice defended President Bush on Sunday against charges that the government's sluggish response to Hurricane Katrina showed racial insensitivity.

"Nobody, especially the president, would have left people unattended on the basis of race," the administration's highest-ranking black said as she toured damaged parts of her native Alabama.

Some black lawmakers, the Rev. Jesse Jackson and other black leaders have complained bitterly about the slow response to the disaster, whose victims have been disproportionately black and poor, particularly in New Orleans. They have said racial injustice was a factor in the government's slow relief effort.

"I just hope that when people stop and think about it, they will just see that that's just not the case," Rice said. "How can that be the case? Americans don't want to see Americans suffer."
You can bet, she didn't trouble to see squat diddly, did she? She plonked her eyeballs on Broadway to watch Spamalot. This whore a lot then idled about, shopping, putting her dainty eyeballs on very expensive high heels.
Even an indignant shopper didn't phase her!
After outlining the influx of international support, Rice said she had told Bush, "If there's anything I can do outside of my responsibilities as Secretary of State, I'd be happy to do that too."
So, miss Princess is waiting for her frog Prince to tell her what to do? I will tell her: go jump into an overflowing toilet at the Super Dome, OK? And shut the door behind you.
To return to homepage click here