SUICIDES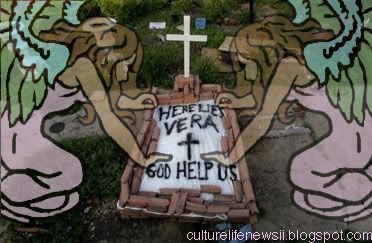 Photo from Yahoo, drawing by Elaine Meinel Supkis
By Elaine Meinel Supkis
Vera died after the hurricane passed. Those who knew and loved her tried their best for her, they covered her with a cloth and lined it with bricks and put her name on her shroud. Unlike the poor people who died at the Super Dome. The soldiers brought in from Iraq are doing what they did in Iraq: shooting all around when shot at.
From Yahoo.com
As authorities struggled to keep order, police shot and killed at least five people Sunday after gunmen opened fire on a group of contractors traveling across a bridge on their way to make repairs, Deputy Police Chief W.J. Riley said.

Fourteen contractors were traveling across the Danziger Bridge under police escort when they came under fire, said John Hall, a spokesman for the Army Corps of Engineers. None of the contractors was killed, Hall said.
One problem with wars like the one we are waging in the Middle East is that soldiers get bad habits. They treat Americans as if they were foreigners...which they often are, in a way, to many Americans who avoid contact with people from the inner cities.
In the first official count in the New Orleans area, Louisiana emergency medical director Louis Cataldie said authorities had verified 59 deaths — 10 of them at the Superdome.

"We need to prepare the country for what's coming," Homeland Security Secretary Michael Chertoff said on "Fox News Sunday." "We are going to uncover people who died, maybe hiding in houses, got caught by the flood. ... It is going to be about as ugly of a scene as I think you can imagine."

Chertoff said rescuers have encountered a number of people who said they did not want to evacuate.

"That is not a reasonable alternative," he said. "We are not going to be able to have people sitting in houses in the city of New Orleans for weeks and months while we de-water and clean this city. ... The flooded places, when they're de-watered, are not going to be sanitary."

In addition to civilian deaths, New Orleans' police department has had to deal with suicides in its ranks. Two officers took their lives, including the department spokesman, Paul Accardo, who died Saturday, according to Riley. Both shot themselves in the head, he said.

"I've got some firefighters and police officers that have been pretty much traumatized," Mayor Ray Nagin said. "And we've already had a couple of suicides, so I am cycling them out as we speak. ... They need physical and psychological evaluations."
Iraq has caused quite a few suicides and attempted suicides. The stress on the first responders has to be taken into consideration which is another reason to be angry about the inexcusable delay in bringing in reinforcements. Like forcing soldiers to stay in Iraq month after month, year after year, over and over again.
From the New Orleans Parish news:
Dear Mr. President:

We heard you loud and clear Friday when you visited our devastated city and the Gulf Coast and said, "What is not working, we're going to make it right."

Please forgive us if we wait to see proof of your promise before believing you. But we have good reason for our skepticism.

Bienville built New Orleans where he built it for one main reason: It's accessible. The city between the Mississippi River and Lake Pontchartrain was easy to reach in 1718.

How much easier it is to access in 2005 now that there are interstates and bridges, airports and helipads, cruise ships, barges, buses and diesel-powered trucks.

Despite the city's multiple points of entry, our nation's bureaucrats spent days after last week's hurricane wringing their hands, lamenting the fact that they could neither rescue the city's stranded victims nor bring them food, water and medical supplies.

Meanwhile there were journalists, including some who work for The Times-Picayune, going in and out of the city via the Crescent City Connection. On Thursday morning, that crew saw a caravan of 13 Wal-Mart tractor trailers headed into town to bring food, water and supplies to a dying city.

Television reporters were doing live reports from downtown New Orleans streets. Harry Connick Jr. brought in some aid Thursday, and his efforts were the focus of a "Today" show story Friday morning.

Yet, the people trained to protect our nation, the people whose job it is to quickly bring in aid were absent. Those who should have been deploying troops were singing a sad song about how our city was impossible to reach.

We're angry, Mr. President, and we'll be angry long after our beloved city and surrounding parishes have been pumped dry. Our people deserved rescuing. Many who could have been were not. That's to the government's shame.

Mayor Ray Nagin did the right thing Sunday when he allowed those with no other alternative to seek shelter from the storm inside the Louisiana Superdome. We still don't know what the death toll is, but one thing is certain: Had the Superdome not been opened, the city's death toll would have been higher. The toll may even have been exponentially higher.

It was clear to us by late morning Monday that many people inside the Superdome would not be returning home. It should have been clear to our government, Mr. President. So why weren't they evacuated out of the city immediately? We learned seven years ago, when Hurricane Georges threatened, that the Dome isn't suitable as a long-term shelter. So what did state and national officials think would happen to tens of thousands of people trapped inside with no air conditioning, overflowing toilets and dwindling amounts of food, water and other essentials?

State Rep. Karen Carter was right Friday when she said the city didn't have but two urgent needs: "Buses! And gas!" Every official at the Federal Emergency Management Agency should be fired, Director Michael Brown especially.

In a nationally televised interview Thursday night, he said his agency hadn't known until that day that thousands of storm victims were stranded at the Ernest N. Morial Convention Center. He gave another nationally televised interview the next morning and said, "We've provided food to the people at the Convention Center so that they've gotten at least one, if not two meals, every single day."

Lies don't get more bald-faced than that, Mr. President.

Yet, when you met with Mr. Brown Friday morning, you told him, "You're doing a heck of a job."

That's unbelievable.

There were thousands of people at the Convention Center because the riverfront is high ground. The fact that so many people had reached there on foot is proof that rescue vehicles could have gotten there, too.

We, who are from New Orleans, are no less American than those who live on the Great Plains or along the Atlantic Seaboard. We're no less important than those from the Pacific Northwest or Appalachia. Our people deserved to be rescued.

No expense should have been spared. No excuses should have been voiced. Especially not one as preposterous as the claim that New Orleans couldn't be reached.

Mr. President, we sincerely hope you fulfill your promise to make our beloved communities work right once again.

When you do, we will be the first to applaud.
In other words, anyone with moxie could have come and gone EASILY, namely, there was ACCESS to the city and thus, the puzzling period of not hours but days and days was due to malicious neglect or even open obstruction. The mainstream media owners and Bush and his ruling elitists are going hoarse yelling that no one knew this would happen (obviously, they don't read my blog) and afterwards, they were unaware of the situation (how could they with the New Orleans newspaper running constant stories?). These feeble excuses are coupled with demands we don't call them what they are: racist pigs.
They haul Bush's mistress, Cinderella Condi, into making appearances to show that she thinks this obvious racist claptrap is normal and OK and even good. Well.
I ain't fooled. I doubt a single black person is fooled. This is done to help racists feel good about their crimes, as always, not to fix anything. During the big black out in NYC in 1977, I lived in Coney Island. I was on the deck, sorting pennies right after a thunderstorm and was watching the wild lightning over the Bronx when there was a series of strong strikes and Manhattan suddenly dissappeared.
"The lights are going out!" I yelled just as much of Brooklyn and Queens went black then we went black. Planes roared overhead in confusion, trying to land at JFK only failing. Within ten minutes, they were all gone, down to DC or up to Boston.
There were a chorus of voices, laughing, joking. It was very hot and humid. I lit some lamps and went down to help the tenants, I was the super.
Then a scream. More screams. Blood curdling. Smashing windows about three blocks away. Damn, I thought. This began a night from hell. Our neighborhood went up in flames. I stood on the upper deck, throwing water on the roof, collecting ocean water. Sloshing everything as burning debrie flew overhead. When daylight came, I expected the National Guard.
There were not even police. No one. We were left on our own. The riot intensified. I got together with some ladies and we marched down Mermaid Ave and Surf Ave, begging people to stop destroying our mutual neighborhood, checking up on the homebound. Moving people.
I was the only white person there. Finally, I undertook the hike to somewhere I could get help. But there was nowhere. Three days later, cops showed up. It took FIVE YEARS to reestablish authority. Thirty to rebuild.
If the National Guard came by boat by morning, it would have been much, much better. We are fortunate no one died. But the long wait puzzled me. Whenever I tried to organize a demonstration, the cops and National Guard would be all over me. I couldn't move anywhere without the FBI and others knowing exactly what was happening.
All gone. They let us go into hell. No authority when desperately needed.
Via Atrios.blogspot.com:
Homeland Security chief Mike Chertoff today offered the administration's (first, second) third excuse for their lack of preparedness for Katrina:


Well, I think if you look at what actually happened, I remember on Tuesday morning picking up newspapers and I saw headlines, "New Orleans Dodged the Bullet." Because if you recall, the storm moved to the east and then continued on and appeared to pass with considerable damage but nothing worse. It was on Tuesday that the levee — may have been overnight Monday to Tuesday — that the levee started to break. And it was midday Tuesday that I became aware of the fact that there was no possibility of plugging the gap and that essentially the lake was going to start to drain into the city. I think that second catastrophe really caught everybody by surprise.
What a moron. All of America knew by Monday the dikes had burst and water was pouring in. I wrote about it before it happened, I pointed out that the water from the rain was pouring into the lakes and Mississippi River and flooding was a real possibility before the first dam broke. I don't live there, I just know how hydrolics work, I do backhoe work!
If Chertoff were in charge on 9/11, he would have noticed the WTC collapsed around the 14th, wouldn't he? Well, Bush sat around, goofing off on 9/11 so it is no wonder he picked a fellow slacker, a man who mirrors his clueless, dead eyed boss.
INFORMATION ABOUT CHERTOFF: Born in Elizabeth, New Jersey, the son of a rabbi, Chertoff went to The Pingry School in high school. He later attended Harvard University, graduating in 1975. He then graduated magna cum laude from Harvard Law School in 1978, going on to clerk for appellate judge Murray Gurfein for a year before clerking for United States Supreme Court justice William Brennan from 1979 to 1980. He worked in private practice with Latham & Watkins from 1980 to 1983 before being hired as a prosecutor by Rudolph Giuliani, then the U.S. attorney for Manhattan, working on mafia and political corruption-related cases.
He is a dual citizen of the United States and Israel.
He is a neo-con and he isn't even a citizen of our country, really, his true alligence is to Israel and so he thinks fighting Muslims is more important than saving Americans.
His cluelessness does NOT extend to Israel. You can bet, he knows every detail about the evacuation of the illegal Jewish settlements in Gaza. You can BET he was anxious that no Jews die in that evacuation. You can BET he paid attention! We have dual citizenship guys running around in the Pentagon and all over the place, they crawl around within our military/security systems. They spy on America and the FBI is investigation a recent case of Israeli spies working hand in hand with neo cons who are dual citizens.
The real question is why Bush handed our lives to this half citizen. And why he wasn't fired on Monday when it was obvious this traitor who doesn't give a fig about American citizens, was failing in his job of protecting us? Why wasn't he arrested? Why is he still enjoying Bush's favor? Is this because Bush's alligence isn't for America, either? Also, Chertoff's prize action was to write the anti Constitutional "Patriot Act." I fear he wants to kill our freedoms and rights so he and his ilk can rule us while they work for another nation. Divided loyalties=oppression and crimes.
We know Reagan was working for the Japanese and couldn't wait to run to his masters and collect his booty. I suspect Bush is using non-Americans to protect us so he can blame them when his policies get too hot. He can say, "The Israeli/American did it!" and set the wolves of antisemitism loose upon the Jewish community.
Jews should be calling for Chertoff's head. They should be demanding he be removed because he doesn't care about America!
God help us all. Traitors. The entire Bush team are traitors.
About FEMA's Brown:
From Wikipedia

After President Bush entered office in January 2001, Brown joined FEMA as Deputy Director and the agency's General Counsel. He was an old friend and former college roommate[6] of Joe Allbaugh, who ran George W Bush's election campaign in 2000 and went on to run FEMA, bringing in Brown as his deputy. Brown took over in January 2003 when Allbaugh left to join a private company.[7]
Shortly after the September 11th terrorist attacks, Brown served on the President's Consequence Management Principals' Committee, which acted as the White House's policy coordination group for the federal domestic response to the attacks. Later, the President asked him to head the Consequence Management Working Group to identify and resolve key issues regarding the federal response plan. In August 2002, President Bush appointed him to the Transition Planning Office for the new Department of Homeland Security, serving as the transition leader for the EP&R Division.
Brown currently chairs the National Citizen Corps Council, part of the President's USA Freedom Corps volunteer initiative.
[edit]
FEMA controversies

In January 2005, U.S. Rep. Robert Wexler publically urged President Bush to fire Brown, citing reports that FEMA disbursed $30 million in disaster relief funds for Hurricane Frances to residents of Miami, Florida, a city which was not affected by the hurricane. Brown admitted to $12 million in overpayments, but denied any serious mistakes, blaming a computer glitch. [8] Wexler repeated his call in April to Homeland Security Secretary Michael Chertoff, citing new reports that FEMA sent inspectors with criminal records of robbery and embezzlement to do damage assessments. [9]

In the aftermath of 2005's Hurricane Katrina being named an "Incident of National Significance", Brown was named the Principal Federal Official and placed in charge of the government's response by Homeland Security Director Michael Chertoff. CNN is reporting increasing anger filling the region due to what seems like complacency and tardiness from FEMA, coupled with an unsympathetic response from Director Brown, who lays some of the blame on the victims for their suffering [10].
In a September 3, 2005 editorial, New York Times columnist Maureen Dowd called Brown a "blithering idiot" for not being aware that 15,000 hurricane victims were stranded in the New Orleans Convention Center, after this had been widely reported. [11]
Brown helped Bush become President by funneling all that money we got from the Chinese in the form of loans down to Florida, thus winning there. This was rank corruption. I remember that people with second and third homes were given free new housing so they could vacation! And this, while we ran up nearly half a TRILLION in new debts! These reckless spendthrifts then decided, since there is no election THIS year, to cut ruthlessly all hurricane related activities. To save some money so they could vote for more tax cuts for the rich.
They are still going to pass the tax cuts, anyway. Even as half a million people are without homes or jobs or hope.
Traitors. They are all...traitors.
To return to homepage click here