USS MINNOW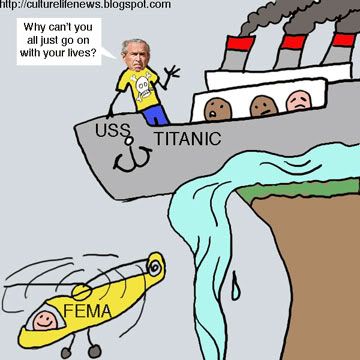 Cartoon by Elaine Meinel Supkis
By Elaine Meinel Supkis
Finally! They resumed bus service to those poor people. What is this? Amtrak? As
Cosmic Rays pointed out on her blog,
simple train rides regularily go 10 to 20 HOURS late. Any country doing this, and Amtrak is always late!--is considered a place in serious trouble.
Well, they Amtraked hurricane rescues.
From Adventus
Homeland Security Secretary Michael Chertoff said Thursday that he thinks the Federal Emergency Management Agency and other federal agencies have done a "magnificent job" under difficult circumstances, citing their "courage" and "ingenuity."

Insisting that aid is coming as fast as possible, Chertoff said, "You can't fly helicopters in a hurricane. You can't drive trucks in a hurricane."
This guy thinks his job is to whine. He thinks we are all as stone stupid as he and his fellow traitors. like we asked them to fly into the middle of the hurricane.
He said this four days after the last breeze blew!
FEMA again!
From Chicago Sun Times:
A visibly angry Mayor Daley said the city had offered emergency, medical and technical help to the federal government as early as Sunday to assist people in the areas stricken by Hurricane Katrina, but as of Friday, the only things the feds said they wanted was a single tank truck.

That truck, which the Federal Emergency Management Agency requested to support an Illinois-based medical team, was en route Friday.

"We are ready to provide more help than they have requested. We are just waiting for their call," said Daley, adding that he was "shocked" that no one seemed to want the help.

Meanwhile, U.S. Sen. Barack Obama (D-Ill.) said he would call for congressional hearings into the federal government's preparations and response.

"The response was achingly slow, and that, I think, is a view shared by Democrats, Republicans, wealthy and poor, black and white," the freshman senator said. "I have not met anybody who has watched this crisis evolve over the last several days who is not just furious at how poorly prepared we appeared to be."
Before the French Revolution, as the aristocracy would drive their carriages through the streets, running over peasants as usual, suddenly, they started overturning the carriages. Then they stormed the Bastille.
EQUIPMENT TO SAVE PEOPLE LEFT IN STOCKPILES! Yes, you read that right.
From CNN:
Nine stockpiles of fire-and-rescue equipment strategically placed around the country to be used in the event of a catastrophe still have not been pressed into service in New Orleans, five days after Hurricane Katrina, CNN has learned.

Responding to a CNN inquiry, Department of Homeland Security spokesman Marc Short said Friday the gear has not been moved because none of the governors in the hurricane-ravaged area has requested it.

A federal official said the department's Office for Domestic Preparedness reminded the Louisiana and Mississippi governors' offices about the stockpiles on Wednesday and Thursday, but neither governor had requested it. (See the mayor blister feds for requiring formal queries for help -- 0:34)

The gear -- including generators, radios, breathing apparatus, cots and other items -- is stockpiled by DHS in nine locations. The three closest to New Orleans are College Station, Texas; Columbia, S.C.; and Clearwater, Fla. The gear is intended to replenish or sustain up to 150 first responders.

Contractors who maintain the gear are required to transport it to a disaster site no later than 12 hours after the initial request is made by local authorities and approved by DHS.
OK. The Gov. of the states being whipped by violent hurricanes are supposed to research this stuff and then go hat in hand to the Department of HOMELAND SECURITY and beg for it? If they don't, Chertoff won't give it to them? What the foul fuck is that?
This amazes me except it is part of the Grand Plan, aka, the Apocalypse. Namely, our rulers, panicking at the sight of the Hubbert Oil Peak, decide to eliminate most of humanity to conserve the planet and live lives of comfort and happiness. Hitler wanted to do this to Europe, his famous "Lebensraum" stuff.
Arrest these traitors. Arrest these fools.
In Cajun land, the First Hausfrau of our mini Hitler visited the refugees...at lunch time. Of couse, they were ordered outside for her photo op and not fed. An hour later, the cold meal was served to a very unhappy crowd. You won't see that on TV but it is here:
Arcadian news.
Now for the Vultures:
From Halliburton Watch:
Halliburton gets Katrina contract, hires former FEMA director
1 Sept. 2005
WASHINGTON, Sept. 1 (HalliburtonWatch.org) -- The US Navy asked Halliburton to repair naval facilities damaged by Hurricane Katrina, the Houston Chronicle reported today. The work was assigned to Halliburton's KBR subsidiary under the Navy's $500 million CONCAP contract awarded to KBR in 2001 and renewed in 2004. The repairs will take place in Louisiana and Mississippi.

KBR has not been asked to repair the levees destroyed in New Orleans which became the primary cause of most of the damage.

Since 1989, governments worldwide have awarded $3 billion in contracts to KBR's Government and Infrastructure Division to clean up damage caused by natural and man-made disasters.

Earlier this year, the Navy awarded $350 million in contracts to KBR and three other companies to repair naval facilities in northwest Florida damaged by Hurricane Ivan, which struck in September 2004. The ongoing repair work involves aircraft support facilities, medium industrial buildings, marine construction, mechanical and electrical improvements, civil construction, and family housing renovation.

In March, the former director of the Federal Emergency Management Agency (FEMA), which is tasked with responding to hurricane disasters, became a lobbyist for KBR. Joe Allbaugh was director of FEMA during the first two years of the Bush Administration.
Your tax dollars at work for Cheney and his buds. The oil men are raking in trillions, the Carlyle Group is rolling in dough, and of course, Halliburton is happy.
From the NYT:
A risk management firm yesterday offered the first estimate of economic losses from Hurricane Katrina - $100 billion - and said that private insurance would probably cover less than a quarter of that. Federal money and charitable contributions may need to do the rest.
Yeah, housing and helping a million people is going to be what? Hmmm? If Halliburton is working in New Orleans, it will cost at least as much as the war in Iraq. To paint the schools.
Notice no word about taxes! Geeze, wonder why?
Here we go off the cliff:
From Think Progress:
BREAKING: Despite Katrina, Frist Will Call Vote on Estate Tax Repeal
Senate Finance Committee members were informed this morning that Sen. Bill Frist will move forward with a vote to permanently repeal the estate tax next week, likely on Tuesday, ThinkProgress has learned.

One stands in awe of Sen. Frist's timing. Permanently repealing the estate tax would be a major blow to the nation's charities. The nonpartisan Congressional Budget Office has "found that the estate tax encourages wealthy individuals to donate considerably more to charity, since estate tax liability is reduced through donations made both during life and at death." If there were no estate tax in 2000, for example, "charitable donations would have been between $13 billion to $25 billion lower than they actually were."
OK. The GOP is taking axes to punch more holes in the hull of USS Titanic. And FEMA has control of the life rafts and is keeping us away. Guess what?
People have to wake up and take control of this tub. We are going to be in an even greater world of hurt if we don't.
To return to homepage click here