Pentagon Public Affairs Nominee Wants Only Good News In Iraq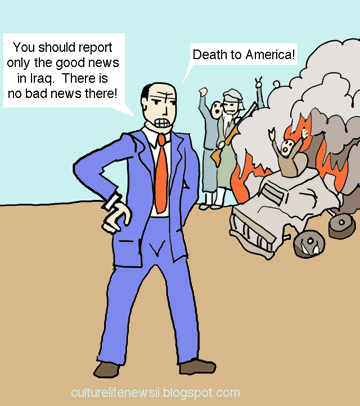 Bush's nominee for Pentagon Public Affairs is a belligerent neo con who believes the news in Iraq is all good news and the press shouldn't publish stuff like death statistics or the truth.
From Reuters:
President George W. Bush's nominee to be the Pentagon's chief public affairs official told Congress on Tuesday he hoped to encourage more positive storiesabout the Iraq war by encouraging the practice of embedding reporters with U.S. troops in Iraq.

Dorrance Smith, a former television producer who spent nine months in Iraq as a senior adviser for former ambassador Paul Bremer, also defended his controversial article in the Wall Street Journal in April, in which he said extremists like Osama bin Laden had "a partner in Al-Jazeera, and by extension, most networks in the U.S."

In the article, Smith concluded that the United States was "losing badly" the battle for the hearts and minds of the Iraqi people, and said ethical questions were raised by the practice of U.S. networks airing videos of hostages obtained by Al-Jazeera, a popular Arab-language television channel.
Like Karen Hughes, this ditzy neo-bimbo thinks all he needs is to blow dry his toupee, get good dental work on his teeth and then he can go out and persuade the world that the junkmobiles he is selling us are not hauled out of New Orleans after the flood but are good cars one can depend on.
Haha.
Right. The fact that the media has mostly echoed the dumb propaganda cranked out by the neo cranks in DC and thus, has tricked Americans into believing all sorts of bizarre things like "No one expected 9/11 to happen (except for Judy Miller and the entire neo con universe!)" or that Saddam was behind the 9/11 attacks by colluding with his worst enemy, bin Laden.
Fooling people into believing Iraq is doing OK works only in America and only so long as one doesn't pay any attention to any news except Fox TV.
Meanwhile, as we go rapidly bankrupt and as Congress slashes programs for Americans, we spend $100 billion a year killing Iraqis and forcing them to write Constitutions which they will shred instantly unlike us, we took 200 years to wreck our Constitution and no one paid us a penny to do it, either!
Here is Kerry talking about solutions:
From Real Cities:
Sen. John Kerry called Wednesday for President Bush to withdraw 20,000 U.S. troops from Iraq over the Christmas holidays.

Ultimately, Kerry said, as certain benchmarks of progress are attained in coming months, the United States should be able to bring all troops home by the end of next year.
Wow. Out of 150,000 military, take out 20,000. No half measures for Kerry!
Gads.
Why not just ask the troops there if they want to go home? Then, to keep the numbers up to 130,000, the GOP and the Democratic parties can send all their operatives and all their government officials and politicians to Iraq! See? They can then hold office there. All of them. If any think we should slowly back out of this death trap, please go there and replace the victims forced to stay there until we finish retreating!
Eh? Naw? heh. What morons. There is no "exit" door to Paradise. But staying there is certain Hell!
To return to homepage click here
To read more breaking news click here