GOP Traitors and Cowards Want War Vote So They Can Attack Patriots Against the War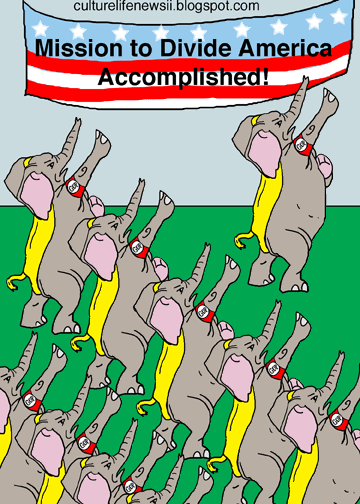 By Elaine Meinel Supkis
The GOP Congress is planning to vote on "do you want to end the war TODAY" which is utterly childish not to mention impossible. Anyone voting for this will be instantly attacked. Anyone voting against it will be declared a liar for not supporting Bush! This is how the Republicans unite America which the majority are against this damn war. Send the GOP chickenhawks to Iraq! Let them put their lives on the line for once in their lazy, stupid lives!
From the Washington Post:
House Republicans, seeing an opportunity, maneuvered for a quick vote and swift rejection Friday of a Democratic lawmaker's call for an immediate troop withdrawal from Iraq.

"We want to make sure that we support our troops that are fighting in Iraq and Afghanistan," said Speaker Dennis Hastert, R-Ill. "We will not retreat."



Rep. John Murtha, D-Pa. gestures during a Capitol Hill news conference, Thursday, Nov. 17, 2005 to discuss the Iraq War. Murtha, an influential House Democrat who voted for the Iraq war, called Thursday for the immediate withdrawal of U.S. troops from Iraq, another sign of growing unease in Congress about the conflict. (AP Photo/Lauren Victoria Burke) (Lauren Victoria Burke - AP)
In Friday's Post
Hawkish Democrat Joins Call For Pullout
The top House Democrat on military spending matters stunned colleagues yesterday by calling for the immediate withdrawal of U.S. troops from Iraq, while many congressional Democrats reacted defiantly to President Bush's latest attack on his critics.

House Democratic Leader Nancy Pelosi of California had no immediate reaction to the idea of a quick vote before Congress leaves Washington for two weeks.

GOP leaders decided to act little more than 24 hours after Rep. John Murtha, a hawkish Democrat with close ties to the military, said the time had come to pull out the troops.

By forcing the issue to a vote, Republicans placed many Democrats in a politically unappealing position _ whether to side with Murtha and expose themselves to attacks from the White House and congressional Republicans, or whether to oppose him and risk angering the voters that polls show want an end to the conflict.
So, are all the GOP spawn of these rank chicken deferment effetes going to sign up to fight in Iraq? Well? I hear crickets chirping. So far, 99.9% of the Young Republicans are shrinking shirkers just like their moms and dads who all ran away from Vietnam!
This direct attack yet another real, live war vet is part of a long, savage, traitorous track of blood left by the mostly cowardly GOP as they run amok. Are all the cowards who ran from Nam going to put on purple bandaids in Congress as they vote? This certainly would be appropriate at this point.
Stupid war mongers should move to Bagdad. There are plenty of hotels there. Plenty of jobs to do. They can go about the countryside, explaining how Chistians will run things better than Muslims, how we didn't use chemical warfare on civilians, we only burned them to death trying to light up the city so we could shoot them! Yup. These clowns can explain to the Iraqis how to count votes by not counting them at all! Way to go!
If they want war, they should live in war! None of the namby pamby hiding behind cement barriers and cops in DC! Nope.
On to Bagdad, dads. Go. Go now. And don't come back. Thank you.
To return to homepage click here
To read more breaking news click here