Jesus Will Judge DeLay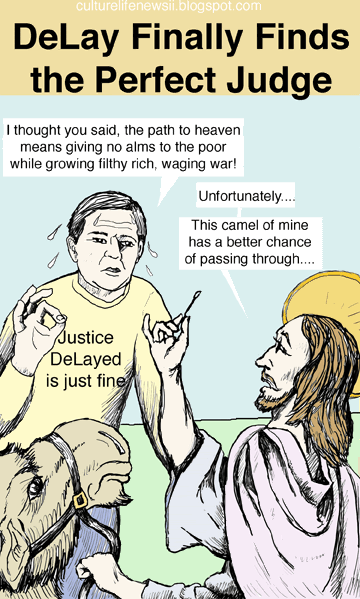 By
Elaine Meinel Supkis
DeLay and the prosecutor can't find any judges in Texas who aren't in either the Republican or Democratic parties. So I am suggesting that Jesus be DeLay's judge. After all, He is very strict, isn't He?
From Truthout.org:
Two days after Rep. Tom DeLay won a fight to get a new judge in his case, prosecutors Thursday succeeded in ousting the Republican responsible for selecting the new judge.

Administrative Judge B.B. Schraub withdrew after District Attorney Ronnie Earle filed a request to have him removed.

Schraub said he will ask the chief justice of the Texas Supreme Court - a Republican - to name a judge to preside over DeLay's conspiracy and money laundering trial.

DeLay is charged with illegally funneling corporate campaign contributions to Republican candidates for the Texas Legislature in 2002. The Texas Republican was forced to step down as House majority leader after being indicted.

On Tuesday, District Judge Bob Perkins, a Democrat, was removed from DeLay's case at the congressman's request because of his contributions to Democrats.

The district attorney argued that Schraub was objectionable, too, because he has contributed to GOP candidates including Gov. Rick Perry, a DeLay ally. Earle said the contributions called into question Schraub's ability to be impartial.

DeLay's contributions to Texas Republicans helped the GOP win control of the Texas House in 2002. Then, in a series of special sessions called by Perry, the GOP pushed through a congressional redistricting plan crafted by Delay to send more Republicans to Congress in 2004.

In his request for Schraub's removal, Earle said Schraub's financial support of Perry reveals that the judge "agrees in principle with Perry's agenda regarding Tom DeLay's redistricting map."

Prosecutors also suggested that Schraub appears politically indebted to Perry, who appointed him as administrative judge and can reappoint him in January.
Well, there is obviously no one in Texas who has been allowed to become a judge who isn't hopelessly compromised. Since Texans have this thingie about Jesus, I suggest we have HIM take on this case! We know how Jesus feels about corruption and crime as well as hypocrites (hint, he hated them more than rich people and he hated rich hypocrites the most!) so on with the trial!
I am certain eternity in hell is a tolerable sentence. After all, the Christians in Texas love strict enforcement of all laws especially those moral ones that Jesus has handed down and the harsher the punishment, the happier the Texan.
Yahooeee.
Git along, little doggies!
To return to homepage click here
To read more breaking news click here