Saddam Trial Spirals Down Into Comic Opera Farce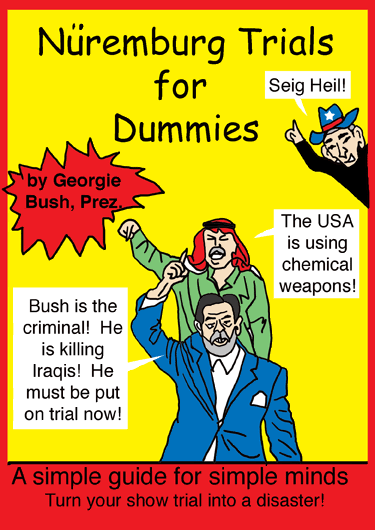 By Elaine Meinel Supkis
Today, Saddam's lawyers walked out on the judge while Saddam yelled about how Iraq is being destroyed by American invaders. This show trial is like Brownie running the Arabian Horse Shows. A disaster. Bring on the clowns.
From Yahoo:
Saddam Hussein told the judge at his trial Monday that "I am not afraid of execution" during an unruly session in which the first witness took the stand and testified that the former president's agents carried out random arrests, torture and killings.

The outburst was one of several by Saddam or his co-defendants during the session that also saw a brief walkout by his defense lawyers.

Following the witness' testimony, Saddam defended his actions and told the court that he understood the pressures upon it in his trial. He and his seven co-defendants could be executed if convicted on the charges stemming from the deaths of more than 140 Shiites in 1982.

"When I speak, I speak like your brother — your brother in Iraq and your brother in the nation," he said, addressing the witness, Ahmed Hassan Mohammed. "I am not afraid of execution. I realize there is pressure on you and I regret that I have to confront one of my sons. But I'm not doing it for myself. I'm doing it for Iraq. I'm not defending myself. But I am defending you."

Addressing the court in general, he added: "I want you to be the shooters and the swords against the enemy army."
The minute Bush and Rummy decided to slavishly imitate Saddam they should have dropped the childish trial stuff. Obviously, charging anyone with killing or torturing anyone right now will be a farce unless Rummy and Bush and the whole neo con conclave are also in the dock, well.
We turned Saddam in to a hero. A martyr. A bearded Joan of Arc. Gads, this is beyond stupid.
It is a crime. The fact that we are being led by a worse criminal than Saddam doesn't stop our resident morons from putting more on.
From Mainichi, Japan:
A group of Iraqis opposed to Japan's military presence damaged a Japanese military vehicle in southern Iraq, the Defense Agency said Monday, as Tokyo prepared to announce whether it will extend the humanitarian mission for another year.

A mirror on an armored truck was broken Sunday when protesters threw stones outside a building repaired by Japanese troops in the town of Rumaythah near Samawah, an agency spokeswoman said on condition of anonymity in line with agency policy. No one was injured, she said, adding that no other details were immediately available.

The incident occurred a day after Japanese defense chief Fukushiro Nukaga visited the town to inspect Japanese troops and review the area's safety ahead of an expected decision to extend the mission for another year.

The troop dispatch, Japan's largest since World War II, is to expire Dec. 14, and Tokyo hasn't officially announced whether it will be extended.
The militarist, expansionist Japanese are going to feel the brunt of native hate yet again. They though they could sneak in under the American mantle and participate in moments of military glory.
And why are they painting those damn schools? Or making repairs? If foreign soldiers invaded MY little town and did this, I would blow them up. They are thieves, stealing oil, stealing jobs! The simple thing to do would be for the "allies" to pay the Iraqis to do whatever the Iraqis think should be done! Period!
Instead, they pretend to be nice, the invaders, by "fixing" stuff...And charging the Iraqis the bill! Expensive painters!
At home, the neo-fascist Americans on the right point to all the painted schools and huff that we are there to be friendly and helpful. It is pure propaganda. The Iraqis don't want us to do this, they are very much against it. We are not helping them. This isn't the Peace Corps but the Dead Corpse at work.
It should stop. Now. Today. We should be busy packing our paint brushes and folding the tarps and leaving.
The other day, Allwari was chased out of Najaf. I saw the videos. The news didn't mention that unarmed demonstrators outraged by this quisling, threw shoes at him.
In return, as he sped away in his American cars, his entourage sprayed gunfire all over the square. Great.
Now we hear of a plot to free Saddam. You can bet, he will be freed. Eventually, the trial location will be stormed and he will be carried out, a hero, or killed and become worse, an icon of Iraq. What a mess.
We lost the war, we lost the trial, we lost the battle of wits with al Qaeda. So much for going to war following a fool wearing a crown.
To return to homepage click here
To read more breaking news click here
Washington Pest