Great Wagnerian Soprano, Birgit Nilsson, Died Today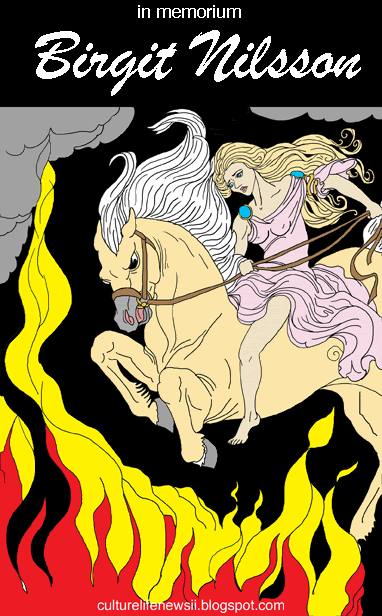 By Elaine Meinel Supkis
I have seen or heard Birgit sing all my youth. I loved her voice. She died today and I want to remember her, the shining star in my own heaven, divine singer, great woman, her light still shines!
From the New York Times:
Birgit Nilsson, the Swedish soprano with a voice of impeccable trueness and impregnable stamina, has died in the village of Vastra Karup, where she was born. She was 87.
When I was a child, my mother and father, both big opera lovers, would listen to any of the opera broadcasts on the radio, we had shortwave radio at the various observatories, too, so we could get European broadcasts, too.
When I was born, my father wanted to call me "Brunhilda" but my mother nixed it. She thought I would have to fight too much in school because of that name. Well, I still had to fight a lot in school and I really would have loved to have the name of a war goddess! Suitable.
My father let me look at the Arthur Rackham "Ring Cycle" books which had amazing illustrations. The storm/war horses in the opera, naturally, appealed to me since most representations of the Lightning Horse with wings showed a tame beast, not the red, wild-eyed, stern equine I had met earlier.
When the London Symphony and Solti began to record the Ring cycle, my father asked me if I wanted one for Christmas when "Das Ringold" came out when I was 11 years old, I said, yes. I devoured it. Each year that a new opera came out, my father bought it for me, it ws terrifically expensive back then. Each one was three, four, six records thick.
When I got "Die Valkyrie" I got to know Birgit's amazing voice. She was invisible but I could vividly see her in my mind as she sang.
By the time I was 16, I had the full opera and her magnificent "Gotterdammerung" is still a towering achievement, an operatic Everest few women dare try to scale! I then moved to Germany and plotted my operatic adventures there, in between running riot in the streets, of course.
She sang Isolde that summer and I took the train to Stuttgart to hear her sing in the beautiful opera house there. Since she is so popular, I could only get tickets to the highest balcony, I was right up next to the paintings of the constellations on the high ceiling, right under Pegasus's sharp gaze, settled in with a large bunch of yellow roses which I purchased on the way in, crossing the park outside. I looked straight down on her in Act II, the famous love scene. She could look straight up to see a young woman hanging over the balcony, drinking it all in.
For when the opera ended, she came out for the obvious applause and I was ready and armed. I took one rose and flung it towards her. She picked it up, looked at me and smiled. I kept applauding, she kept coming out, I threw one rose after another. It was two dozen. My hands began to hurt but I kept it up, the audience was leaving. She was laughing and kept coming out.
I threw one after another and if I missed, the first chair violin would pass it to her, laughing. She yelled, "Bist du fertig?" and I yelled, "Nimmer!" and threw a rose at her. So she invited me to shake her hand and I was in tears of joy. "Sie sind der Sterne meine Leben," I said. "Danke, danke," she smiled back.
She signed my program and I went home, walking on clouds. She was so human, so regal yet earthy, a woman of great heart and vast soul, I will miss her.
*************************************************************
Previous Similar Articles
*************************************************************
To return to homepage click here
To read more breaking news click here
Washington Pest