Israel's Defense Forces Use Only Kid Gloves On Jewish Terroists While Killing Palestinian Children For No Reason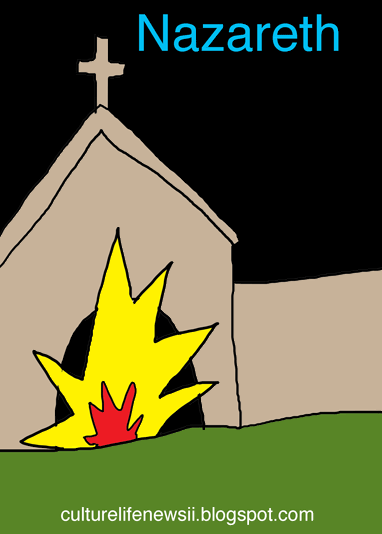 By Elaine Meinel Supkis
All the foo-foo about "terrorism" and yet, when protected people do terrorist acts, they are carefully handled so not to even bruise them, much less, kill them. So today, in Israel, three terrorists who are not Palestinian, attack a Palestinian-Christian church. They are protected from the outraged crowd and carefully whisked away by the IDF who then turns around, and in another community, shoots dead a 15 year old youth for going up on the roof to see a fire fight! (The IDF killing other Palestinians)
From AP:
A distraught Israeli couple, joined by another woman, entered one of Christianity's holiest sites Friday and set off explosions, police said, sparking a large riot in this biblical town in northern Israel.

At least eight people, including five police, were injured in the melee, which appeared to be under control by late Friday.

The assailants, who were not believed to be linked to any Jewish nationalist group, were disguised as Christian pilgrims when they entered the Basilica of the Annunciation, police said.

They remained barricaded inside the building for several hours before police broke through a crowd of several thousand angry protesters and took the three away.
Like the many bombs hitting mosques in Iraq, this is what our media and our rulers call "terrorism" but because it was being done by people who we label as "good", they are described as "distraught" rather than as "cold blooded terrorists." This is how language is used to modify acts.
The church goers who were attacked were "distraught." The fact that these terrorists took the trouble to get disguises and sneak in, this is no sudden, out of control act but a planned plot of more than two people to do a terrorist act. But no where in the article are they called "terrorists."
From AP:
Israeli troops shot and killed a Palestinian teenager and wounded a second person during an early morning raid Friday in the West Bank city of Nablus, Palestinians said, the latest death in a recent flare-up in violence between Israel and the Palestinians.

Palestinian witnesses said Amer Basiouny, 15, was shot when he went up on the roof of his family's home in the Ein Beit Ilma refugee camp in Nablus to see what was going on after gunfire erupted in his neighborhood during the pre-dawn Israeli raid.

The Israeli army said troops in the camp shot an armed man and a second person who threw an object, believed to have been a bomb, at the soldiers during the raid.

Residents said Basiouny was not armed. A second person was lightly wounded by shrapnel that flew into his house, they said. There were no reports of a second person being shot, they said.
Israel reminds me of the Deep South. As minorities fumed under the whip of a very unfair and downright evil regime of racist oppression, the police would handle blacks in the most brutal way imaginable and not feel the slightest guilt while white folk committing very grave crimes were hardly arrested, much less, punished, no matter how many people they killed.
This system was so bad, whites could have themselves photographed at murder sites complete with the body hanging from some tree and then sell the photos as soveniers.
Meanwhile, Russia cuts a deal with the USA and Israel.
From AP:
Hamas' leader made the militant Palestinian group's highest-level diplomatic trip ever Friday to hear out Russia's urging that it recognize Israel and abandon violence, but emerged showing no softening in hostility toward the Jewish state.

Hamas political chief Khaled Mashaal welcomed the meeting with Russian Foreign Minister Sergey Lavrov and other officials, calling it "good, constructive and open," but he did not discuss details of the four-hour talks.

A statement from the Foreign Ministry, however, said the Russian side urged Hamas to endorse the "rejection of violence as a means of obtaining political goals," observe existing Israeli-Palestinian agreements and recognize "Israel's right to exist."
This snarled ball of yarn will unravel only during the Apocalypse when all will be turned into one, big, molten mess.
Religious forces being unleashed by all this are hard to quantify but I feel in my bones that religious insanity is at the bottom of all this and we know there is no upper limit to the death and destruction religions can create when they express the will of the Gods which is, nearly always, malign. I, personally, think "Gods" are our ids, that deep, psychotic inner self that dwells in the reptilian parts of our minds. We humans have brutally annihilated anyone and anything in our paths and as we crown ourselves as the penultimate species, we lash out at each other with amazing brutality.
When, for example, that little Palestinian girl was shot in the back by IDF snipers, no one in Israel said so much as a peep about it. The government didn't punish the murderer nor did it apologize to the girl's family. And we can expect no feelings of sympathy going the other direction, either.
In Iraq, the religious riots and budding civil war has been put on pause today only by banning all commerce, traffic and human activity. Already, the various religious sects are seperating populations so they can go at it in ernest in the near future.
Bush went to Pakistan where the entire city center was cleared of all people so our poppin jay President can parade about, pretending to be some sort of diplomatic wonder boy. The dictator there had to use a lot of muscle to make it look as if someone is happy to see Bush aside from himself.
Bush flew into the country with the lights turned off, the name of his jet, hidden, in the dark of night, just like his entry into Afghanistan. These are our "allies".
The Palestinians are finding all doors closed to them. The religious bigots running Israel think, this will bring victory. Nacht und Nebel power! They imagine, starving, helpless, attacked by police dogs, herded into camps surrounded by barbed wire, shot at by irritable Jewish guards, even little children shot if they approach any perimeter of these death camps, this will save Israel from the Apocalypse.
Sad to watch the fulfillment of that dire prophecy. The Whore of Babylon is us.
*************************************************************
Previous Similar Articles
*************************************************************
To return to homepage click here
To read more breaking news click here
Washington Pest